Read about new releases, updates, and bug fixes in ClockShark
October 9, 2023
Improvements
The geofence got an upgrade! Previously, the maximum radius of the geofence was 750 meters. Now you can triple that size, extending the geofence to 2,250 meters (or roughly 1.4 miles). Additionally, there is now a marker (GPS pin) that displays the center of the geofence - this is the starting point for where the radius is based. Lastly, a unit of measure (meters) is now displayed so that you know the exact radius of your geofence.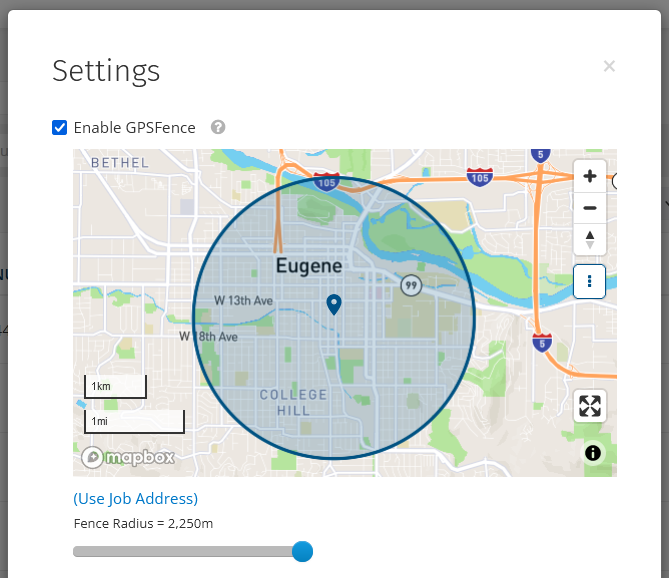 July 25, 2023
Improvements
The password requirements for your ClockShark account have now changed. Any user (current or new) now just needs to meet the following requirements for your password:
Minimum of 8 characters long
Must include at least one number, one uppercase number, or one symbol
July 11, 2023
Improvements
ClockShark has changed the number of times you can log in to the mobile app with the wrong credentials before being locked out. Previously, if you entered the incorrect login information 3 times you would be locked out for 15 minutes. Now, you won't get locked out until the 10th consecutive incorrect login attempt.
March 28, 2023
Improvements
The Who's Working Now page has some updates. When no employees are clocked in, you will see this picture instead of an empty map. This change to the interface is intended to make it clear when employees are clocked in versus when employees are not clocked in.
Similar to the above-mentioned improvement, the timesheet display has an update. GPS locations only appear on a timesheet if that person clocked in from their mobile device. If they clocked in from a computer, the Kiosk Time Clock or the time is manually added no GPS location will appear on the time card. To make this clearer, you will see the picture below when a person's GPS location is not available instead of an empty map.
The add and edit employee interface received an upgrade. We have simplified the way you can add/edit employees so that the information you see is easier to understand and organized so that you do not have to scroll down a long list. On the left-hand side, you have five categories: Employee Details, Time Off, GPS & Time Clock, Permissions, and Manager Settings. You'll start on the Employee Details section where you have the name fields, email/mobile phone fields, password field, and others. Please note that the new default color for an employee is ClockShark orange. This is the only section that has the required fields for adding or editing an employee. Next up is the Time Off section. This option will only appear for Pro Plan users that have time off policies set up. From here, you can easily add an employee to a policy and edit their hire date and balance. Third is the GPS & Time Clock section. The Enable GPS Tracking and Allow clocking in from the website will be automatically checked, but you can change check or uncheck these boxes as needed. Second to last is the Permissions tab. By default, the permissions will look like they do in the picture below. These categories are now clear and concise. For instance, you can choose if your employee can only view jobs or if they can add and edit jobs. You can also remove access to quotes and invoices for employees. Lastly are the Manager Settings. By default, your employee's manager setting will be set to "None". This is where you can grant manager access to employees. For instance, if you want Jack to view and edit Joe's timesheet and schedule, you can do that here.
February 21, 2023
Improvements
The "Pending" label has been removed from the "STATUS" column of the Employees page. We created the "Pending" label to let administrators know which employees had not yet completed the sign-up process, but the label was causing more confusion than expected. Now you will only see "Active" and "Inactive". Active users count toward your bill and Inactive users do not count toward your bill.
Pro Plan update! If you use ClockShark's Time Off feature, you can now add an employee to a time off policy in the employee details section (both for existing employees and when you add an employee). This allows you to easily make sure you have the right employees in the right policy with the right balance.
February 7, 2023
Improvements
We updated the logo and copy for ADP on our Integrations page! The logo is up to date and the new copy more accurately and concisely explains the integration.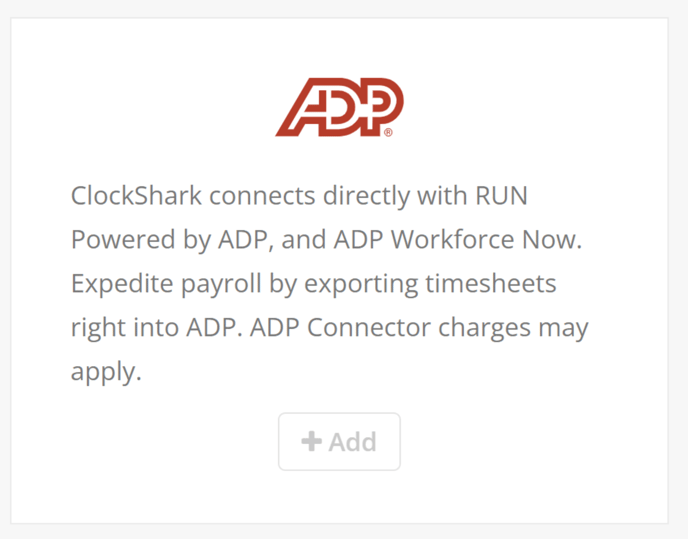 2. Our Xero integration now exports invoices from ClockShark into Xero. This is easily done in ClockShark from the
Invoices
page by clicking the three dots to the right of an invoice and then clicking "Export to Xero"

3. Do you want to get the ClockShark mobile app to your employees faster and easier? Now you can text them the link to download the ClockShark mobile app! From the Employees page, click the three dots to the right of the employee > press "Text App Download Link" > and your employee will receive a text message with a link to download the app. (Please note that the employee's phone number must be entered in their profile for this to work.)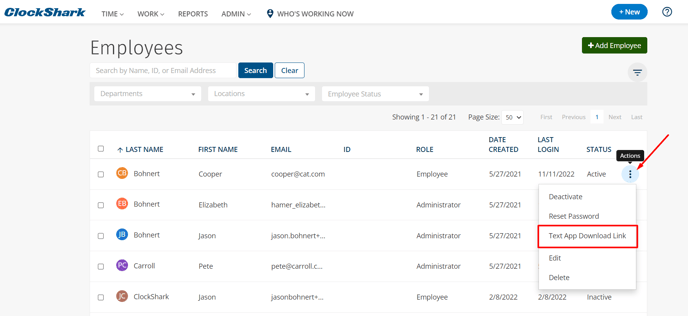 January 24, 2023
Improvements
When a user visits the timesheets page before anyone has tracked time, the page informs them that no time has been tracked and encourages them to try clocking in for themselves. Once they have clocked in and clocked out they will see the information displayed on the timesheet page.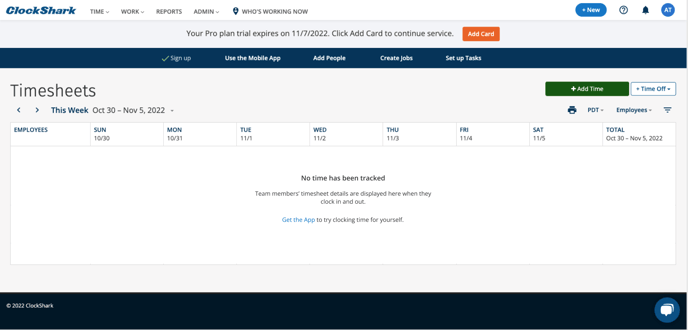 January 10, 2023
Improvements
ClockShark's integration with Xero has expanded beyond Australia. Now users from the United Kingdom and New Zealand can integrate with Xero. To learn more about this integration, please read this article. And if you want to book an appointment with one of our integrations specialists, please use this link or chat with a support agent who will help you book an appointment.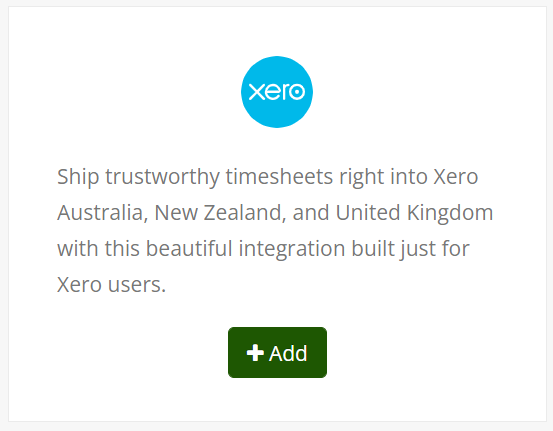 December 15, 2022
Year in Review
Happy holidays Sharks! In November and December, we worked on internal improvements that allow us to easily add and improve features into the new year. Our engineers reduced the time it takes to fix bugs, and we aim to fix the bugs that inevitably pop up even faster in 2023. Our Product team has many exciting improvements and enhancements lined up for the new year. We will continue to update this page as those features roll out. BIG thanks to all of you customers. We hope you get some well-deserved rest and relaxation over these last couple of weeks of the year, and we look forward to helping you grow in 2023!
October 18, 2022
Improvements
The scheduler keeps on getting upgrades! We've all hired someone and then gone on to schedule them only to realize you haven't added your new employee to ClockShark yet. Now you can add that new hire right from the schedule page! When you go to add a shift, you will now see that + Add Employee option in the Employee's drop-down menu. This allows you to streamline your scheduling process, giving you more tools from one, centralized page.


Do you have employees that you want to create tasks on the website but don't want to make an admin? Now you have that option! Under the "Work Settings" section, you will see that the "Tasks" checkbox now reads "Tasks - Add and Edit" - meaning your employees can add tasks from the website and the mobile app.


October 4, 2022
Improvements
Exciting schedule update! When you hover your mouse over any part of a cell on the schedule, that cell becomes highlighted. This improvement allows you to use the schedule in an easier manner.


The +New button received an upgrade as well! Previously, when you clicked the +New button and pressed Employee, you would be redirected to the Employee page. Now a modal appears from any screen you are on where you can quickly and easily add an employee.


Do you use your employee's phone numbers to add them to ClockShark? If so, you can now text them the download link for the ClockShark app right from the Employees page! To do this, press the 3 dots to the right of the status > and press Text Download Link. Your employee will quickly get a text message from ClockShark with a link to download the app.


September 20, 2022
Improvements
Do you ever go to schedule a job only to realize that you haven't yet added the job to ClockShark? No longer do you have to go to the jobs page instead you can add a job and you can add an employee right from the schedule! This improvement allows you to streamline your scheduling.


In addition to the improvements mentioned above, you can now create a new job from the Add Shift modal. When you are on the schedule page and click add a shift, you can click the job drop-down, and the "Create New Job" option is there for you to add a new job that you want to schedule.


September 6, 2022
Improvements
The My Time Clock page got an upgrade! There is now an asterisk next to "Job" and "Task" to show that these fields are required. The Notes & Attachments fields only display when you are on the clock. You can now create a job from the My Time Clock page. Additionally, new trials will see a "General" job & task.
August 22, 2022
Improvements
CrewClock has some exciting new improvements! Before ClockShark app version 3.29.0, when a crew lead selected one or more crew members all five options appeared for the crew lead. Now crew leads will only see the applicable options -for example, if a crew lead selects someone who is off the clock, the only option will be "Clock Crew In."
August 9, 2022
Improvements
ClockShark Mobile App version 3.28.0 and newer will have an improved login page. This new page is more simple and to the point.

The Audit Log will now when a job was deactivated and who deactivated the job. The details will show something like this: User Jane Doe Deactivated Job Test Job. No longer will you have to wonder who deactivated a job.

Improvements to the My Time Clock page! To reduce the number of steps needed for clocking in from the website, before you've added any jobs, you can choose "General Work" and the task "General Activity" will automatically fill in allowing you to clock in quickly.
July 26, 2022
Improvements
ClockShark redesigned the Billing & Payment page to make it more straightforward. The plan you are on, your subscription status, and different billing options were previously not displayed in an easy-to-use manner. Additionally, the invoices didn't clearly break down the user fee.

Now, the subscription status & payment, the plan you're on & options, and the billing option you've chosen are clearly shown. Your upcoming invoices also plainly show the user fee and the base fee.

QuickBooks Online customers will be excited to learn that new jobs and customers imported into ClockShark from QBO projects and sub-customers will import the address entered in QBO.
June 28, 2022
Improvements
The Data Import feature now has a field for phone numbers! Admins can bulk upload employees into ClockShark using either an email address, phone number, or both.

New ClockShark trials will automatically have the Out Of Bounds alert turned on for their account.

Pro Plan Only. The list of Holidays you enter has been moved from the Company Settings page to the Time Off page
Bug Fixes
The drop-down menus were not layering correctly, causing overlaps. This happened on the Jobs, Tasks, Employees, and Quotes pages and has now been fixed.

On Androids, the Who's Working Now page wasn't automatically refreshing. This has been fixed with ClockShark app version 3.25.0
June 14, 2022
Improvements
Holidays can now be completely deleted from the timesheet. Previously when you deleted a holiday from the timesheet, you had to click on each individual who had the holiday on their timesheet to delete the event and the name of the holiday stayed on the timesheet even though every user had that holiday deleted. Going forward, when an Admin chooses to delete a holiday from the timesheet, they will click on a specific individual's timesheet and a window will appear asking the admin to confirm if they want to delete the holiday for the one person or for everyone. If the admin deletes the holiday for everyone, the name of the holiday will no longer remain on the timesheet.

On the Employee List, longer names and email addresses would get squeezed into the column making it difficult to read. Going forward, the column will expand to fit the entire name and email address.
May 17, 2022
Bug Fixes
Tasks with long names were not formatted correctly on the Timesheets Report. This has now been fixed.

Holidays that were added by accident with no time were shown on the timesheet. This has now been fixed.

The "Missing Response" email was not formatted correctly. This has now been fixed.
May 16, 2022
Mobile App 3.22.0 - Bug Fixes
On iPhones, you could not zoom in and out from the Timesheets page. This has been fixed.

On iPhones, long error messages would not fit on the screen. This issue has now been fixed.

On Androids, the email button on the Contact Us page was broken and has now been fixed.
May 3, 2022
Improvements
Going forward, the Audit Log will show when an employee is deleted or deactivated and who deleted or deactivated them.

Additionally, the Audit Log will show when a job is deleted and who deleted that job.

Our customers who are integrated with QuickBooks Desktop will be happy about this news! Companies with 5,000 or more customers in QuickBooks Desktop would run into loading issues on the web connector. Going forward, customers should no longer run into these loading issues.


The Holiday feature is here! This feature is part of the Pro Plan and allows you to quickly and easily add your company's holidays to your employees' timesheets and schedules. Here is an article on how to use this feature.
Bug Fixes
When adding a shift to the schedule, the incorrect date was shown. This has now been fixed to show the date you choose.

When turning a GPS fence on around a job site, the map was not loading the job's address automatically. This has now been fixed.
December 2021: New This Month from ClockShark
This month, we've released some exciting new elements to the ClockShark application designed to make your job easier:
Alerts and Notifications segmentation enables you to control which notifications you and your team members receive. Choose which alerts to attach to employee timesheets, who sees them, and how they're notified - learn more here.

Copy Day functionality makes adding time more efficient: you can now copy a day's shift(s) to another day and/or employee. Learn more here.

Default Start/End Times now give you the ability to globally define default start time, end time, and/or duration for shifts that are manually added to Timesheets/Schedules.

The Job Settings tab has been updated to an efficient and streamlined modal via the Actions dropdown.

Other fixes and updates, including page updates for more clarity and bugs squashed to make sure that both our mobile app and site run smoothly.
October 26, 2021
Improvements
Our October 26 release included enhancements to the application designed to make your job easier:
We expanded the hover area for sections and line items on Quotes and Invoices

You can now sort the Pay Rates .csv report alphabetically
Bug fixes
This release also contained several bug fixes to correct reported errors, including:
The user role for the Kiosk Time Clock feature saving incorrectly (which caused PINs to appear as if they were failing)

Visual errors on some time zones with a : 30-minute ending

Affected date missing from overlapping time warning

Task restrictions for jobs not applied on the Add/Edit Schedule page

ADP Pay Rate mappings not set

Billable time with multiple line items not nested in a section
October 12, 2021
Mobile app 3.15.0
Improved the experience of our Quotes on the mobile app. Now you can make and view comments, update the status, and also view the Quote totaled by sections if applicable. Also fixed bugs surrounding the most recent ping and changing time zones, the magic sign-in link not directing to the correct place, the @ mention symbol not populating correctly on iOS devices, Job actions disappearing on the mobile app, Customers syncing properly offline, and more all fixed!
QBO billable rates
With our QuickBooks Online integration, you can now add a billable rate based on the task/service item mapping. So now you can change the rate charged to your customers in QuickBooks based on the type of work done by your employee. This task billable rate is the highest priority used if there are multiple billable rates.
Small Improvements
Small improvements include updating the company time zone selector to match the new company time zone on Timesheets, we increased the font size for certain labels around the website, and we fixed a link for the Ryvit connector download for the Sage integration. Finally, we improved the Add/Edit Employee page to be more readable and user-friendly while keeping all the same functionality.
Bug Fixes
We fixed bugs around the GPSTrak time format being hard to read, added support to export PTO to ADP even if the policy had been deleted, and also a bug where the earning codes were being duplicated on the ADP mappings page.
September 28, 2021
New Button
When adding something from the +New button in the upper left, that item will become immediately available on whatever page you are on.
Small Improvements
Added markers for required fields of an employee, the scheduled shift pop-up has improved styling, and the employees are now alphabetized on the add time off page.
Bug Fixes
Fixed bugs surrounding an incorrect error when adding manager permissions while creating an employee, employees with the correct permissions not being able to click on the Job link in the scheduling pop-up, the edit Invoice showing the contact instead of the Business Customer, the multi-time zone tooltip not going away, and more fixed!
September 14, 2021
Multi-time zone timesheets
On the Timesheets and the Timesheet Details pages, you can now view the data from the perspective of a different time zone. There is a time zone selector in the upper right by the +Add Time button. Before the timesheets were always shown from company time, but now you can have your choice. For example, if your company is located in Pacific Time, your employee in New York will show up as working 5am - 2pm. But now you can choose to view this in Eastern Time which would be 8am - 5pm, the actual hours he worked. There is also a "Local Times" option which will show you the time zone that the employee used. This is great for traveling employees that may cross time zones, all the time zones will be listed.
Small Improvements
The Alerts and Reminders page has been redesigned to match other settings pages we have with a left tab design. This is in preparation for new notification enhancements coming soon. Other improvements include the ability to select 'no task' on a scheduled shift, adding an item with our +New button will now immediately show the newly created item for some situations (eventually will be all situations), and now the schedules maintain the time range when you are switching from the Employee/Job view.
Bug Fixes
Bugs fixed recently include the inactive/deleted jobs showing up incorrectly on the scheduler, the Who's Working Now page not automatically updating, Invoices unable to be marked with full payment in certain cases, sorting by the first name if Employees have the same last name, Quote attachments disappearing in certain situations, and being able to update an Invoice straight from draft status to past due status. All this and more fixed!
August 31, 2021
Overtime segmentation
Added the ability for users to create multiple sets of overtime rules and apply these to employees of their choosing. This will affect timesheets, reports, integration exports, etc. This is available for companies on the Pro Plan.
Improvements
Work was done to support the next generation of ADP integrations so that will be a smooth transition. Also added the ability to view and update the stage of a Job directly from the scheduler when clicking on a Job and viewing the pop-up shift details.
Bug Fixes
Notable bugs fixed include a color and styling issue on the GPSTrak on the Timesheets, breaks shifting time when editing on mobile due to a time zone issue, the employee name not pre-populating on the scheduler, in specific cases PTO missing from the Quick Summary report, extra rows showing up on the Quick Summary report, the 'delete' help text remaining on the schedule page, an error when changing job color on the schedules, and more fixed!
August 17, 2021
Quotes, invoices, and payments
Our Quotes, Invoices, & Payments feature is now available as a work-in-progress preview to ClockShark customers. In an effort to make this feature even better, we want more users to have access and provide valuable feedback.
Small Improvements
The Who's Working Now page was updated with improved styling, we added clearer descriptions of how the mapping works with our QuickBooks Online integration, and we have more specific warnings on Quotes, Invoices, and Jobs when changing the Customer will break an association, remove billed time, etc.
Bug Fixes
Fixed bugs include our employee selector for access control and manager permissions was not correctly displaying who was selected after refreshing the page, the active/inactive Task filters were not working properly, PTO hire dates were shifted one day due to a time zone issue, creating a new scheduled shift for any employee was not pre-populating the employee, and more all fixed!
August 3, 2021
New filters and dropdowns
We introduced a new Job filter on the Who's Working Now page. So now you can filter down to a specific Job and see who is currently clocked into it. We also updated the filter style around the website. Instead of a large selection and a tile-like display, the filters are now simple checkboxes. The search was also improved so after you search and make a selection, the search is cleared so you can quickly start typing again. Many of our dropdown selectors across the website were also updated.
Small Improvements
The drag-and-drop functionality for line items on Quotes and Invoices was improved with better highlighting where you are dragging your item and better control. The schedule shift pop-up was also enhanced with new styling and a scroll bar to view all the shift notes attached.
Bug Fixes
Some bugs that were fixed during this period include scheduled Tasks not appearing on the mobile app in certain situations, the Time Off hours available were calculated wrong on the website, the create new customer option when creating and Job/Quote/Invoice was not working properly, the Safari browser was causing some issues with our new dropdown selectors, we had schedule warnings that were firing incorrectly, and lastly we had the Quick Summary and Time Off reports that were reporting Time Off incorrectly if the requested date split the date range selected, all of these and more have been fixed!
Mobile apps 3.13.0 and 3.13.1
These two versions fix a lot of minor bugs around the app including geofence reminders not firing on iOS devices, wrong location permissions being applied on the Android scheduler, added job contacts were not visible, the iOS version could not tap on certain phone numbers, Customers were not requiring the first name on iOS, a kiosk issue where you weren't appearing clocked in, and more. The 3.13.1 version fixes a bug where KioskClock photos were not being saved properly and were not being shown on the timesheets.
July 20, 2021
Bug Fixes
Fixed bugs including validation for the email when you are sending a Quote/Invoice, copying the correct contacts when you copy a Job, and an issue on the Company Settings page that would not let you change the start day of the week.
Small Improvements
Added enhancements of displaying the Employee ID for Time Off shifts on the CSV Export report, moving the balance field for Invoices next to the total for easier reading, deleting entire tax rates from an individual Quote/Invoice, and payment status on Invoice for ClockShark Payments.
July 12, 2021
Mobile app 3.12.0
The search on the Time Clock page has been greatly expanded to include a Customers search and a combined Job/Customer search. Now that Customers are searchable they are also creatable and editable on the mobile app. Each Customer now has a Jobs tab to view all Jobs assigned to that Customer. Customers and Jobs are controlled by an edit customer and edit job permission that you can selectively grant to employees.
July 6, 2021
Company settings
The Company Settings page has moved to a tabbed approach for greater organization, grouping, and clarity.
Edit customers
We created a new "Edit Customers" permission so employees can be granted permission to edit existing customers and create new customers as well.
Small Enhancements
Enhancements this week include adding a Job/Task breakdown to the Employee Details report, adding pagination for improved loading on the QBO Customers wizard, making headers on the reports more consistent, and increasing the target area when dragging and dropping line items on Quotes/Invoices.
Bug fixes
Bugs fixed include not being able to select a customer when adding unbilled time to an invoice, wrong page redirection after saving an invoice, self-serve trial appearing in the Schedule print page, Job contacts overwriting other job contacts, and maintaining the calendar range on the schedules when switching from Job/Employee view.
June 23, 2021
New button
Added a "+New Button" on the header menu. This allows you to create a Customer, Job, Task, Quote, Invoice, or Employee from anywhere in ClockShark. The header is also sticky now and follows you down the page.
Small enhancements
We have added a lot of new functionality around the site as well. Examples include adding the start/end break times on the details reports, automatically populating the employee email from QBO when importing them in manually, expanding the Quote footer, Invoice footer, and line item description character limits to 5000 characters, adding a grace period of one week if you miss your payment while in good standing, Job Stages are now always on and available for all plan levels, and finally added a warning if you try to schedule a task to a job that doesn't have access to it.
Bug fixes
Notable bugs that were fixed include an inefficient QuickBooks Online sync for larger amounts of Customers and Jobs, improving the response time of the reports page load time, fixing a daylight savings time issue on the report date ranges, and allowing Timesheets to export on QuickBooks Desktop if the employee only had Time Off entries.
June 8, 2021
Quotes, invoices, and payments enhancements
Add lots of usability improvements to the Quotes, Invoices, and Payments feature. First, issue dates default to the day you send the Quote or Invoice, and the due date for an invoice defaults to 30 days after the send date. Other highlights include labeling the ClockShark user that manually requested changes, adding sections to the Manage Associations pop up for easier selection, when adding billable time and expanding into the shift view your selections are preserved, the "select all" option on adding billable time only shows when appropriate now, adding a default subject message for emails, you can send Quotes and Invoices from the Customer page, and much more!
Customers always on
Since Customers are an integral part of an organization, it is now always on for all companies. This does not affect any integration setup and is available for all pricing plans.
Other enhancements and bug fixes
Elsewhere around the site, we have added support to bulk import Employee IDs on the Data Import feature. A couple of bugs that were fixed include a display issue on Safari, fix overnight shift total calculations on the scheduler, and lastly, a Gusto sync issue if the settings were different than expected.
May 25, 2021
Enhancements and bug fixes
Other enhancements include adding attachments to Quotes and Invoices, employees can view Customers they have access to on the website, and new edit pop-ups for Customers. Bug fixes include warning on schedules when access control wasn't enabled, QBO syncing over address information, and an ADP task mapping error.
May 12, 2021
Quotes, invoices, and payments
A soft launch for the Quotes, Invoices, & Payments feature. For a limited time this is available to all plans and to all users. You can create Quotes for your customers, convert them into Jobs, then Invoice based on the time worked in ClockShark, and get paid online through ClockShark Payments or record payments manually. Learn more about this feature here.
Navigation redesign
The "Admin" menu was growing very long and it was hard to use or find anything in the list. We designed a new navigation layout to help separate things into more meaningful categories. The "Time" section now includes Schedules, Timesheets, Approvals, Time Off, and more. The "Work" section includes Customers, Jobs, Tasks, Quotes, and Invoices. The "Admin" section is still the go-to area for managing your team, company-wide settings, and feature-specific settings. The Notifications page was renamed "Alerts and Reminders" to not confuse it with our notification bell area. The Who's Working Now page is also easier to get to now. Employees will be able to view the Jobs and Customers they have access to online, just like they can on the mobile app. Employees with manager permissions won't see the "Admin" menu now either.
Timesheet alerts report
This new report allows you to get a summary of all the alerts that appear on the timesheets, and well as a detailed breakdown for each employee shift. Read more in this help article.
Mobile app 3.11.0
This version of the mobile app added support for viewing geofences on the Job Details view. We also improved our redirecting after tapping a notification, so a notification about a Job will take you to that Job. Fixed bugs around task access control, WWN not showing all employees, and other bugs. The nearby job distance is now configurable in the settings, updated styles for new Job/Task selectors, viewing both the date and time of an edit, and more enhancements.
April 13, 2021
Scheduler warning
We will now provide a warning when you are attempting to schedule a job or task that the employee does not have access to. This matches behavior on the mobile app.
Bug fixes
Fixed a bug where scheduler warnings were being misapplied when the access was around a department or location. Other bugs fixed were around a QBO customer not being imported due to a long website address and notifying schedule updates incorrectly.
Enhancements
Two enhancements include adding a "fax" option for contacts and moving the referral link under the user initials.
March 30, 2021
Reports landing page
Our number of reports has been growing and the old display was hard to use. We created a new landing page for the reports to quickly see all of the reports and the information they provide. Clicking on a report takes you to the report generation screen like normal. You can also switch back and forth between reports on this page. Added new functionality for viewing reports versus downloading them for easier use.
Employee IDs
We now display the Employee IDs around the website on the Timesheets, Schedules, and Reports just like we do for Job Number and Task Code.
Mobile app 3.10.0
The biggest change is enforcement of "allow always" location permission when both GPS and GPSTrak are required for users. Check out this help article for more information on our GPS requirements. We also updated the Time Clock to show the number of comments on the current job. We also added Conversation support for Customers so you can follow Customers, leave comments on Customers, and also view contacts and attachments. Other changes include allowing skipping days on Time Off requests, updated styles for the CrewClock page, and a bug fix for attachment sizes growing. Many performance improvements to the job and task selectors for clocking in and also for the CrewClock page.
Enhancements and bug fixes
Other enhancements around the website include adding Department/Location filters on the Employee list, now importing job addresses from Sage, importing customer notes in QuickBooks Online, fixing a bug where ADP Pay Rates were not be assigned correctly, and also fixing a bug where the Gusto export was failing due to mismatching pay periods and time off exports.
March 16, 2021
Schedule update
Another improvement for the schedules. Now shift notes are visible on the pop-up modal so you do not have to "edit" the shift to view them. The Job and Customer are both clickable links so you can quickly navigate to them.
Bug fixes
Fixed various bugs. Shifts would appear missing with a start time of 11:59 pm, adding multiple shifts in a row on the Timesheets would cause a javascript error, and Missing In notifications were being falsely reported.
Small enhancements
Multi-select dropdowns now stay open by default in order to allow you to select multiple items without opening them back up, clicking away closes the dropdown. Other enhancements include task codes being added to the website time clock, we will warn you if you have the caps lock on when logging in, and we now list the day of the week when viewing the timesheets for employees.
March 2, 2021
Mobile app 3.9.0
This version adds support to view Customer and Contact information on the mobile app. Also adds a push notification for Conversations when there is a new notification based on Jobs you follow or if you have been mentioned in a comment. Fixes a few bugs like editing breaks on the iOS version, and correcting the display when canceling a Time Off request.
Schedule update
Added a small update to the style on the schedules side panel; updated to more closely match the rest of the website and provide more emphasis on the scheduling calendar.
Bug fixes
In addition to the bugs fixed in the mobile app release, a few other bugs were addressed. These include the orange dot on the Notification bell icon incorrectly showing up on sign-in, and fixing the time zone on the Sage integration sync log.
Small enhancements
Update the styles for comments made by deleted users, allows the employee name to still be seen and any messages they were mentioned in. Added the chat bubble on the sign-in screen for easy access to our Support team.
February 16, 2021
Auto focus
When visiting a list page (e.g. Jobs List), the cursor will automatically focus on the search bar so you can begin typing right away. This is also true when creating new items like Jobs, Employees, Customers, etc.
Improved time off audit logs
Added more functionality in the Audit Logs for Time Off events. There is more consistent formatting with the users, policies, and balances involved. Also created a new log entry when a carry-over balance is in effect and limits a full accrual.
February 2, 2021
What's New page
Now you can view information on our latest release to learn about feature releases, product enhancements, and bug fixes. Bookmark this page, or reach it any time from the "What's New" link in the help menu.
January 26, 2021
Multi-select dropdown
The dropdowns around the website where you can select multiple items, had a bug fixed so you can hold the CTRL-key in order to easily select items without needing to reopen the dropdown. Will be improved in the future so holding down this key isn't needed.
Reports performance
Optimize reports for greater speed and efficiency, especially for the Pay Rate and Quick Summary reports.
December 1, 2020
ADP earnings code override
This enhances the ADP Workforce Now integration by being able to export Tasks from ClockShark to specific earnings codes in ADP instead of only the default ones.
November 25, 2020
ClockShark conversations
ClockShark Conversations allow admins and employees alike to communicate with each other via a comment thread added to each Job and Customer. This is accessible from both the mobile app (Customers on the mobile app will be available soon) and the website so everyone can communicate with their normal workflow. Everyone that has access to the Job/Customer can be mentioned in the thread so they get a notification that there is something important to see. Jobs and Customers can also be followed so notifications can be sent when there is new activity.
Employee ID
Added an employee ID field that is visible on the CSV export report. Working on expanding this functionality to other pages on the website.
September 22, 2020
Quick summary report
The Quick Summary report lets you grab a quick snapshot of total hours by Employees, Jobs, Tasks, or Customers. It also has an optional breakdown where you can get the total hours for every other category (e.g. a report that gives you total hours for each employee and the total hours that each employee worked on Jobs).
August 21, 2020
Mobile app timeline
The Timeline feature boils down the normal workday of a user and lets them see it. You will be able to see your locations for the day, when you clocked in, switched, took breaks, and view the GPSTraks for the entire day all in a timeline format on the app. This is accessible in the upper right corner of the Time Clock page.
July 6, 2020
Clock out questions update
Adds functionality to our Clock Out Questions feature so that questionnaires have the option to be asked only on clock out instead of switches. The short answer response is also being increased to 250 characters.
June 23, 2020
Job stages
Released Job Stages which allow you to create custom stages for your company and workflow to help track the life cycle of your Jobs. Also increased the "Job Description" field to 2000 characters and added an "Edit Jobs" manager permission so employees can view/edit Jobs just like admins can.
New time off report
Our new Time Off report provides a lot more useful information while also staying succinct enough to not waste paper and space. New additions include being able to filter by the status of the request, display the totals by Time Off policy, employee and manager notes, and more.
ADP Canada integration
Now support our ClockShark integration with ADP Canada WorkForce Now customers.
March 13, 2020
Mobile time clock remodel
Our 3.0.0 version of the mobile app introduced an updated interface that gives the user their visible location, a new Job card for easier access to important information, better Job/Task selectors, a new search bar, and more.
May 5, 2020
Data import
The Data Import feature allows you to quickly and easily upload CSV spreadsheets of Employees, Jobs, and Tasks into ClockShark which can drastically reduce time spent doing manual entry.
April 22, 2020
Customers
Our new Customers feature is released. Customers allow you to assign jobs to an individual or business, track contact information, provide another layer of tracking and reporting, integrate with QuickBooks Desktop and Online. This will help both admins and employees stay more organized and informed. This is currently available on the website but support will be added to the mobile app.
New integrations with Gusto, Paychex, MYOB, and a Sage improvement
March 23, 2020
Overlapping time notification
This feature added a check for any overlapping time caused by manual time entry, or employees with syncing differences, and place a clock exception on the timesheet. The admin can also choose to receive an optional email.