KioskClock™ allows multiple employees to clock in from a single tablet or smartphone, using only a 4-digit PIN
KioskClock™ allows multiple employees to clock in from a single tablet or smartphone, using only a 4-digit PIN. This feature is perfect for any situation you would use a traditional time clock. KioskClock™ transforms a mobile device into an easy-to-use time clock and can be placed in a central location so employees can easily access it.
To use KioskClock™, you first need to enable it for the employee for that you'd like to have KioskClock™ permissions. To give an employee permission to use KioskClock™, visit the employee's settings via the website in the menu under Admin > People > Employees.
In the settings screen for each employee, you will find an option labeled "Allow Clocking In Using KioskClock™ via Mobile". Check this box to enable the employee to use KioskClock™.
To enable facial recognition with KioskClock™, check the "Require Photo Capture" box. To deter buddy-punching and provide peace of mind, each time an employee clocks in or out, KioskClock™ will take a picture and compare it to the reference photo of the employee. You can read more about facial recognition here.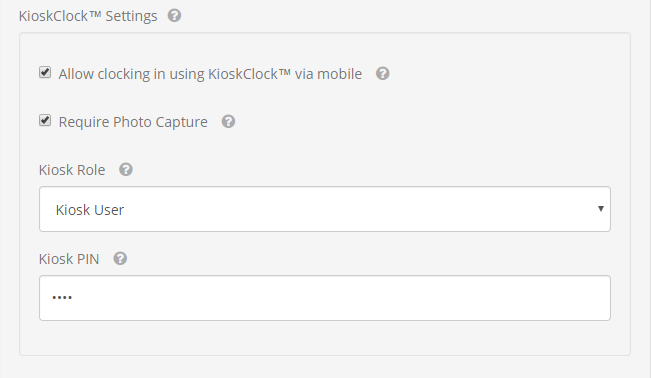 There are two roles within KioskClock™, Administrator and User. Administrators can enter and exit KioskClock™ mode, while KioskClock™ Users are only allowed to clock in and out using their PIN when the app is in KioskClock™ mode. Once you've selected the employee's role, finish by creating a 4-digit PIN they will use to clock in and out with at the KioskClock™.
Once enabled, the KioskClock™ Administrator may need to log out of their mobile app and log back in. Once they log back in, they will see a new menu option in the mobile app labeled KioskClock™.
From this menu item, the Administrator can put the mobile device into KioskClock™ mode using their 4-digit PIN. (Note: only the Administrator who initiates KioskClock™ on the device can take it out of KioskClock™.)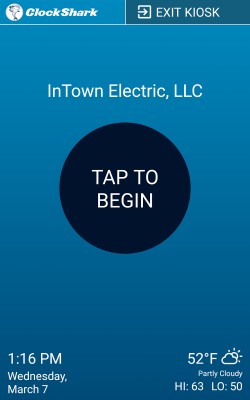 Once the device is in KioskClock™, employees will enter their 4-digit PIN to clock in and out. After they enter their PIN, they will choose their job and task on the following screens, and then clock in.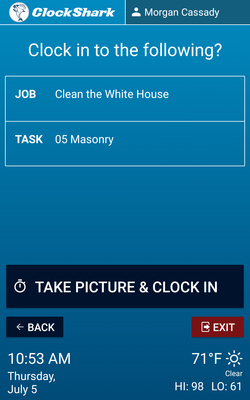 Note: If you have facial recognition enabled, KioskClock™ will switch to camera mode and photograph the employee before clocking them in.
The punches will be visible in near-real-time in your web-based dashboard, along with the GPS location of the punches. Whenever they need to switch jobs or clock out, they will simply re-enter their PIN and perform that action.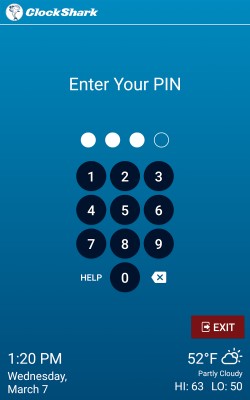 At any point, employees can re-enter their PIN to view their current clocked-in status, switch jobs, or start their breaks. Pressing the red "Exit" button will return the KioskClock™ to its home screen, and allow another user to enter their PIN.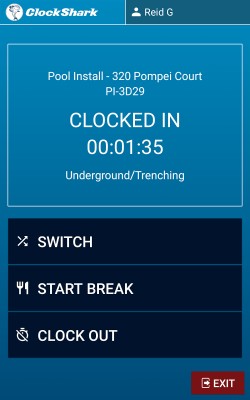 To take the device out of KioskClock™ mode, the Administrator will press "Exit Kiosk" in the top right of the screen, and then re-enter their PIN. This will return the device to the ClockShark mobile app.
Administrators can exit KioskClock™ while their employees are clocked in on KioskClock™ if they need to check timesheets or employee schedules. Be sure to check out our help page on Manager Permissions so you can enable those permissions to anyone who isn't a company administrator.
Note: Check out how to lock a tablet or smartphone so that it can only run ClockShark's KioskClock™.
Click here to learn how to enable this for Apple devices.
Click here to learn how to enable this for Android devices.
And voila! You're now all set to go and use KioskClock like a pro! Remember: with KioskClock™, multiple employees can clock into work from a single smartphone or tablet using a 4-digit PIN. This timeclock on a tablet can go in the office, at the site, or in the truck: anywhere you need to take a timeclock.
Of course, don't forget about the three other easy ways you can track employee time in ClockShark too: the mobile app, the web clock, and CrewClock™.
If you have any questions about how to use KioskClock for your company, please let us know at hello@clockshark.com. Our 5-Star Customer Success team is always happy to help.
Note: Kiosks sync with each other so you can set up more than 1 kiosk station and your employees can clock in on kiosk 1 and clock out on kiosk 2 without any issues. This is true also if your employees clock in from the mobile app and then clock out from a kiosk.