Empower your team to get more work done and easily review the history for Quotes and Invoices.
ClockShark Quotes & Invoices are available on the Standard and Pro Plans
Businesses are hard to run alone. Keeping track of your company's workflow from quotes, to schedules, to job completion, to invoicing and payment can quickly become too much for one person to manage. Luckily with ClockShark's Work Settings, you can grant employees the ability to view or edit quotes and invoices without making them Administrators. Give your team the tools to get work done faster, more efficiently, and get paid quicker!
Work Settings
Employees can be assigned Work Settings that allow them to access more information around the website. There are separate sets of manager permissions to view or edit quotes and invoices, that can each be set up independently. Since quoting and invoicing workflows vary greatly from company to company, this flexibility allows you to make sure your employees can see or change what they need access to.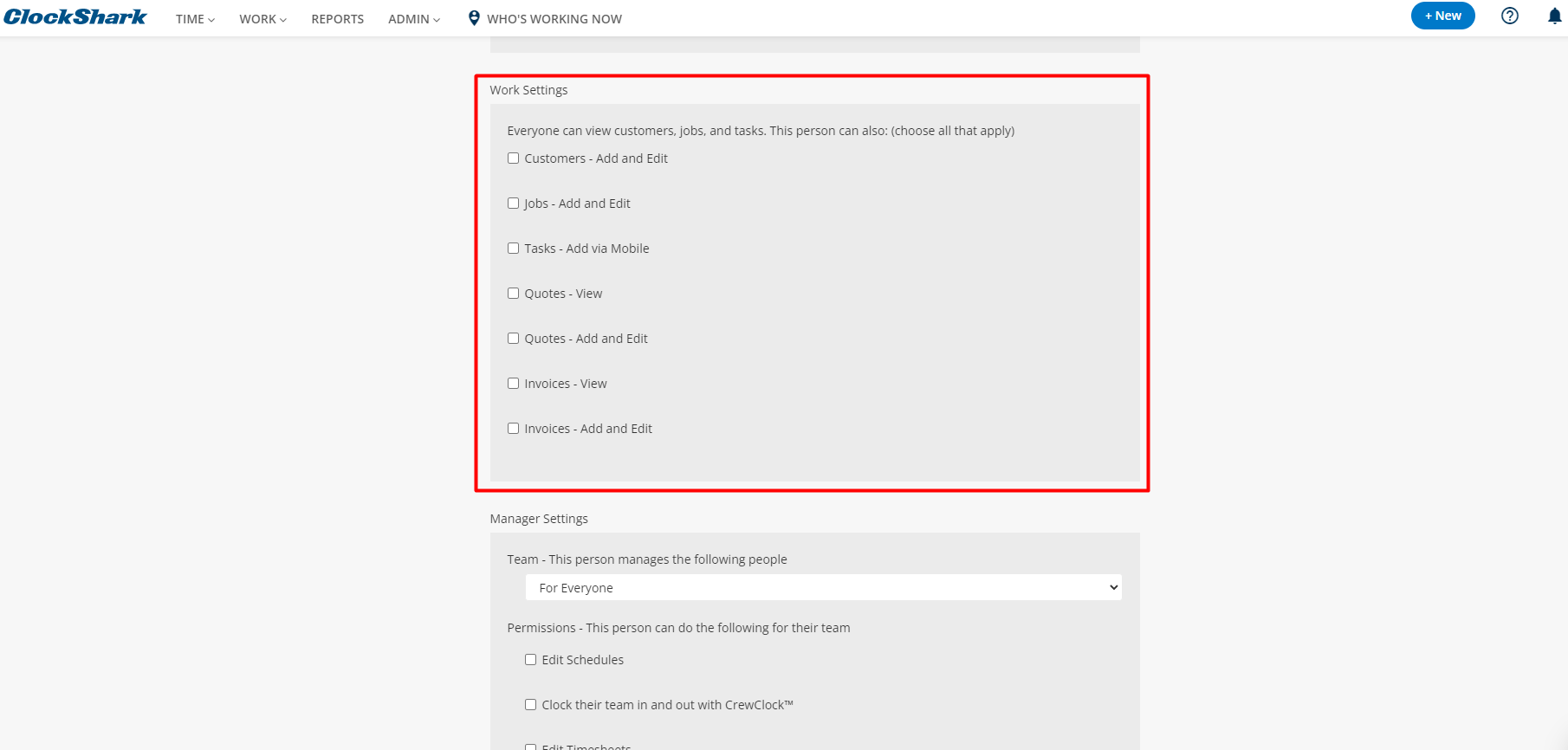 View Quotes - This allows the user to view the list of Quotes, details about each Quote, and comment on Quotes.

Edit Quotes - This allows the user to create new quotes, directly edit quotes and change values, send quotes, update statuses, and delete quotes.

Edit Jobs - This will allow the employee to view, edit, and create jobs on the website. They will also be able to edit the Job Stage on the mobile app. You can limit which jobs an Employee has access to with Job Access Control.

View Invoices - This allows the user to view the list of Invoices, details about each Invoice, and comment on Invoices.

Edit Invoices - This allows the user to create new invoices, directly edit invoices and change values, send invoices, add payments, issue refunds, update statuses, and delete invoices.
It is important to note that certain workflows may require two different permissions. For example, creating a Job directly from a Quote makes changes both to the Quote and the new Job so an employee needs the "Edit Quotes" and "Edit Jobs" permission in order to do this.
Activity History and Audit Log
With so many moving parts, it can be hard to remember when everything took place. Did you send that Invoice on Monday or Tuesday? When did the user request changes to their Quote? Our Activity History makes it easy to answer these questions and see a timeline of notable events for each Quote and Invoice. To view the activity history, go to the details of the quote or invoice you would like to see. Here you can view how and when the item was created, any edits, status updates, and more. Note on the right-hand side you can see who made the changes, if it is blank then that means the customer themselves made the change.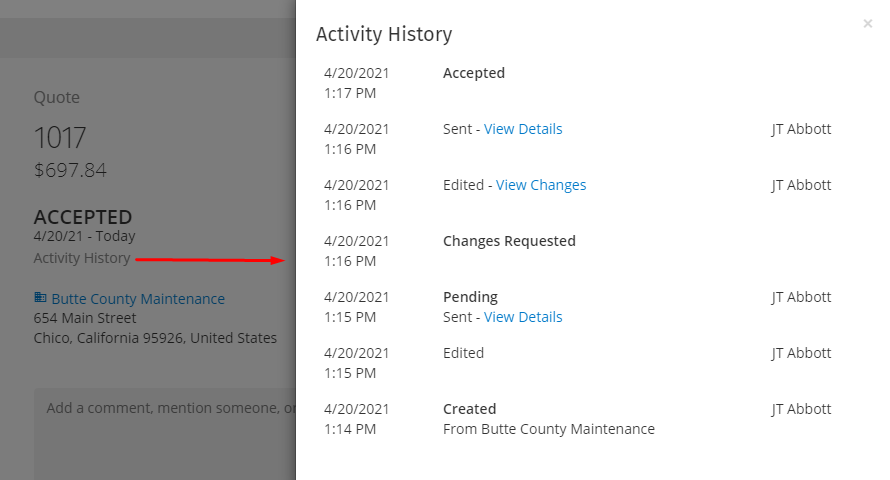 Clicking on the "View Details" link will take you to the Audit Log to view the exact changes made to the Quote or Invoice. The audit log is also a great place to look for anything regarding changes to Quotes and Invoices. You can search the audit log by Quote ID or Invoice ID to get a similar view as the activity history. You can also use the audit log to find payments by their reference number, view quotes and invoices that have been deleted, refunds made, and more.
Note: Employees with the "Edit Quotes" and "Edit Invoices" permissions can view the activity history but only admins can view the full Audit Log.

Now you are ready to grant Quoting and Invoicing permissions to your team and use the activity history to make sure your team and your customers are all on the same page. If you have any questions along the way please feel free to contact our Support team and get ready for answers!