Learn how to run your business from quotes all the way to payments
Take charge of your business from start to finish with the ClockShark all-in-one platform. Quote, invoice, and accept payments in ClockShark, while managing your Customers, Jobs, and Scheduling and tracking detailed time.
Create custom Quotes for your customers that they can review and accept online. Then create a Job in ClockShark and schedule it so you can get to work. After completing the job, create an Invoice using the hours you tracked in ClockShark. Once sent, your customers can pay online quickly with ClockShark Payments. You can also manually record payments made in cash, check, or any other method.
Quotes
Quotes allow you to give your customers a quick insight into how much your services will cost them. Quotes can be custom-made for each customer, or you can create templates that allow you to create Quotes for common jobs more quickly. You can learn more about creating Quotes and more about using templates here.
Once the Quote is created, you can send it directly to the customer as a PDF and include any notes and attachments you may want to add. The customer can view the quote online and accept it or request any changes they may want to make. When viewing the quote you have the ability to edit the quote, download it, preview it as the customer, and more.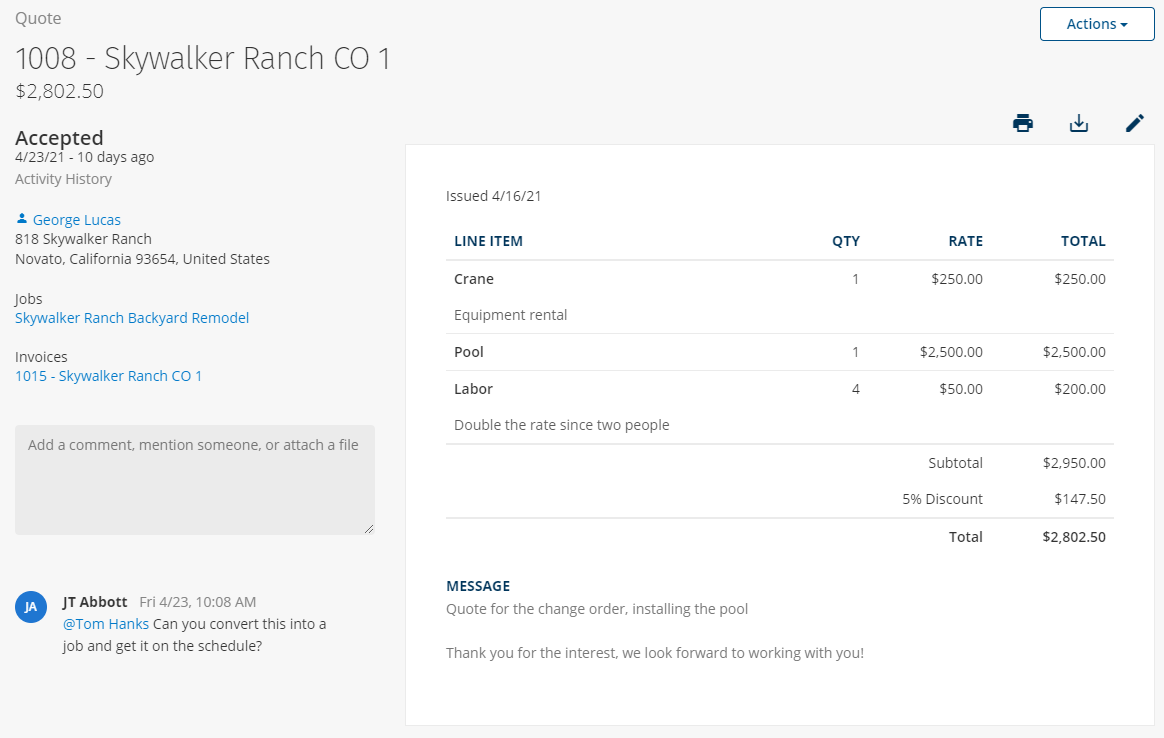 Managing quotes can feel like a juggling act. That's why our Quotes go through a series of statuses to help keep you organized. Now you can easily view and manage your quotes at every step. To learn more about this flow and managing your quotes, check out this article.
Job Management
After a quote has been accepted by the customer, it is time to get to work. Our job management process allows you to create a Job directly from the accepted quote. Next, you can schedule the job and your employees so everyone knows when and where to show up. Open a communication channel between the field and office with our Conversations feature where your team can keep in contact during the job with comments, attachments, and notifications. You can also track the progress made on jobs with our fully customizable Job Stages. Learn more about the job management process here.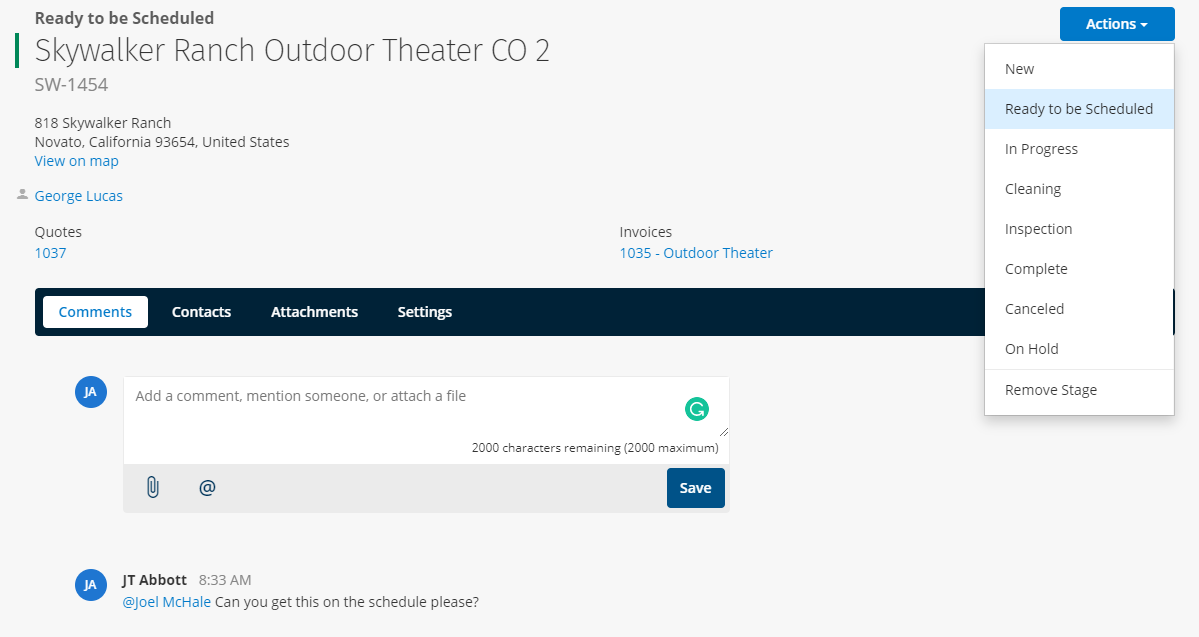 Invoices
Once the work is done you are ready to create an Invoice and get paid. You can create custom invoices, create invoices directly from previous quotes, create invoices from templates of common charges, bill directly based on the time tracked in ClockShark, or use a combination of all these methods. Learn more about creating Invoices with this help article.
Once the Invoice is created, you can send it to the customer and include notes and attachments about the work completed. The customer can view the invoice online and pay you directly with ClockShark Payments.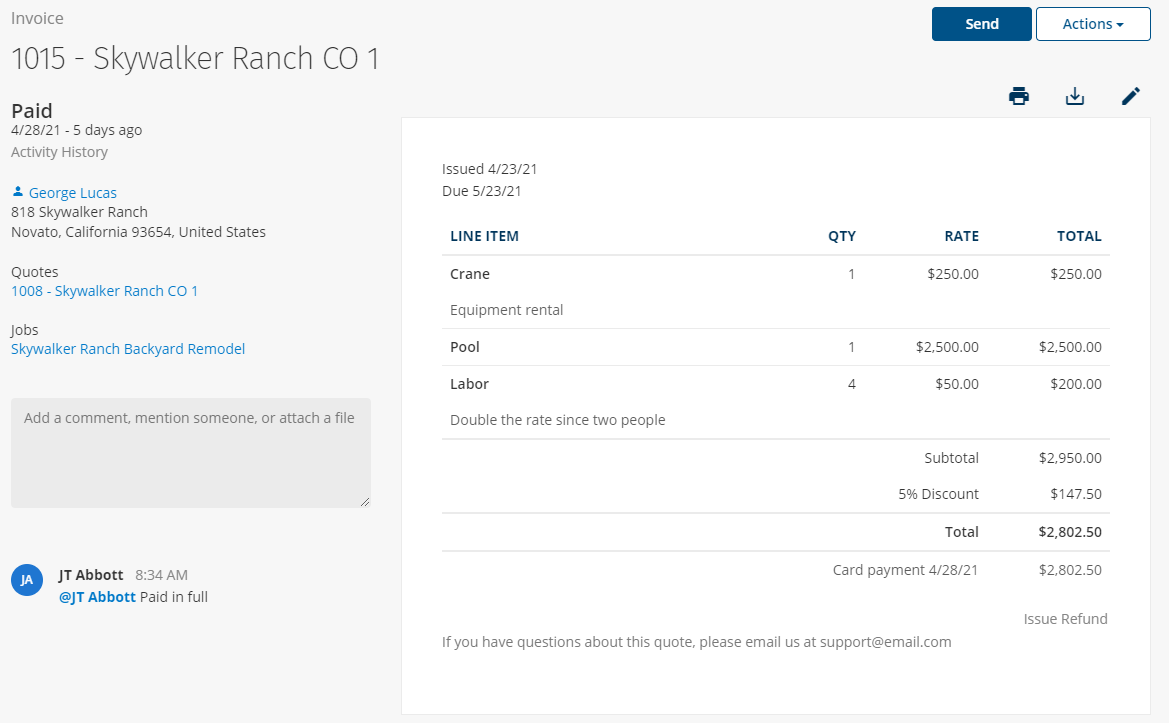 If your customers pay you by other methods no problem! You can keep track of these payments in ClockShark as well, learn more with this help article.
While you're creating your invoice you can make edits, preview it as the customer, download it as a PDF, connect your invoice to any associated jobs and quotes, share comments with your team, and keep track of the status by what invoices have been sent, which ones are past due, what has been paid and more! To learn more about using Invoices check out this help article.
Customers
At the heart of all these processes is the customer. Whenever you create a Quote, Job, or Invoice you can assign it to a Customer. This Customer acts as the common link between this entire workflow. When you view a Customer details page you can find information about all of the associated Quotes, Jobs, and Invoices. You can take many actions from here like creating new jobs, sending quotes, recording payments, and more. You can also see how much money they owe you or if they are in good standing. This is a great way to track everything for a client or business. Learn more about Customers here.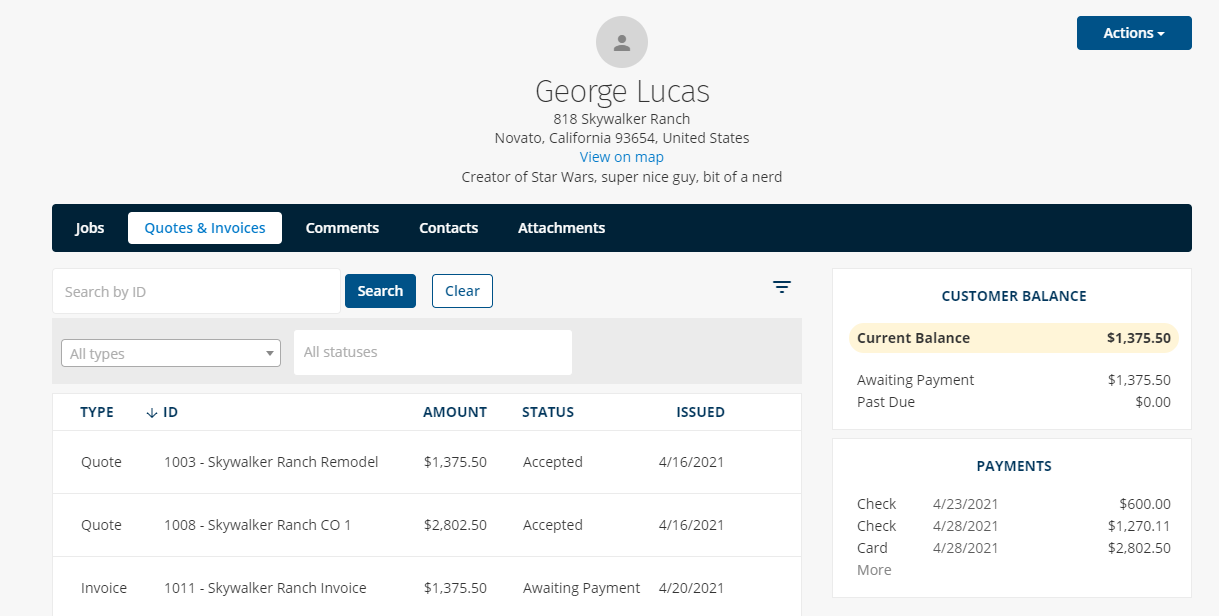 Quotes & Invoices Permissions, Activity, and Auditing
Businesses are hard to run alone, that's why we have manager permissions that help you grant authorization to your team and share the load. Now you can have crew leaders, office employees, and more view and edit Quotes, Invoices, and Jobs. But with a more hands-on deck, it is important to be able to see what changes have been made and by whom. Every Quote and Invoice has its own activity history which helps show you when it was created, when it was edited, different statuses that it has been through, payments, refunds, and more. All of this is also tracked in the audit log so you can quickly search for everything. To learn more about this process check out this article.
Reports
Turn your timesheets into information you can take action on, using ClockShark's easy-to-use reports. Get data on your Job, Task, and Employee hours. Track how much money you've earned, who still owes you money, how many quotes and invoices you've worked on, and much more. You can check out these reports in more detail with this help article.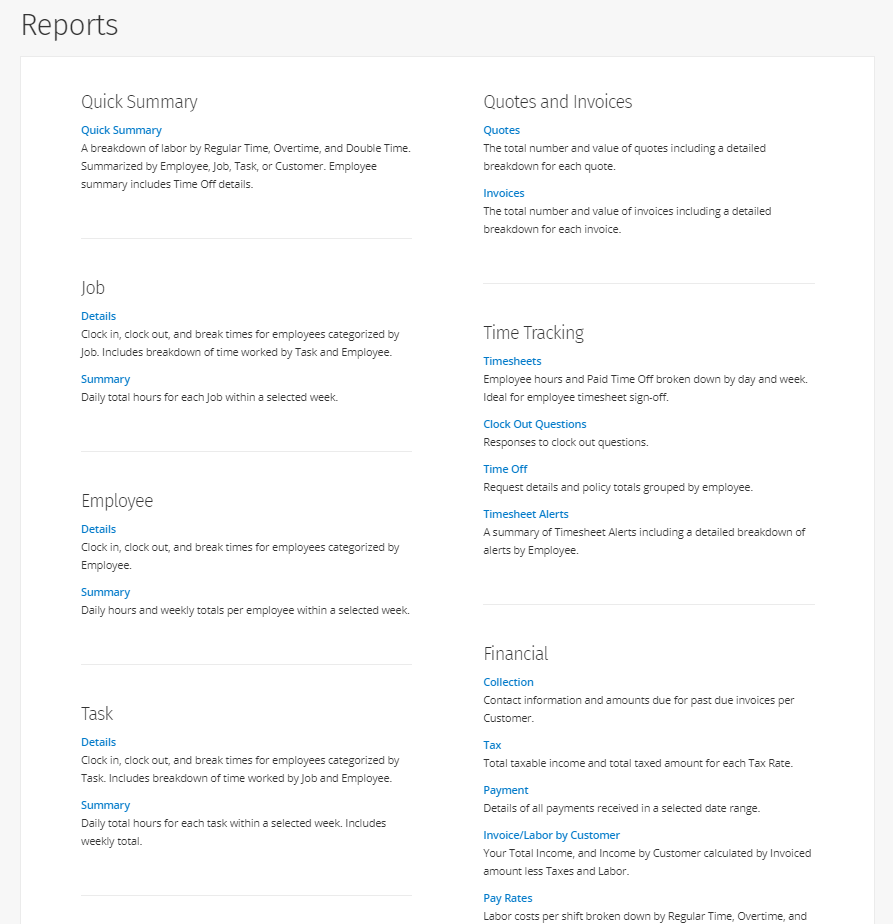 *Quotes, Invoices, and Payment related reports are Standard and Pro Plans Only*
Since every company does things a little differently, we allow you to customize your presentation of Quotes and Invoices. This includes creating custom footers for Quotes and Invoices, custom email messages, managing your tax rates, your company display information, and more. Check out this article for a deeper understanding of this customization.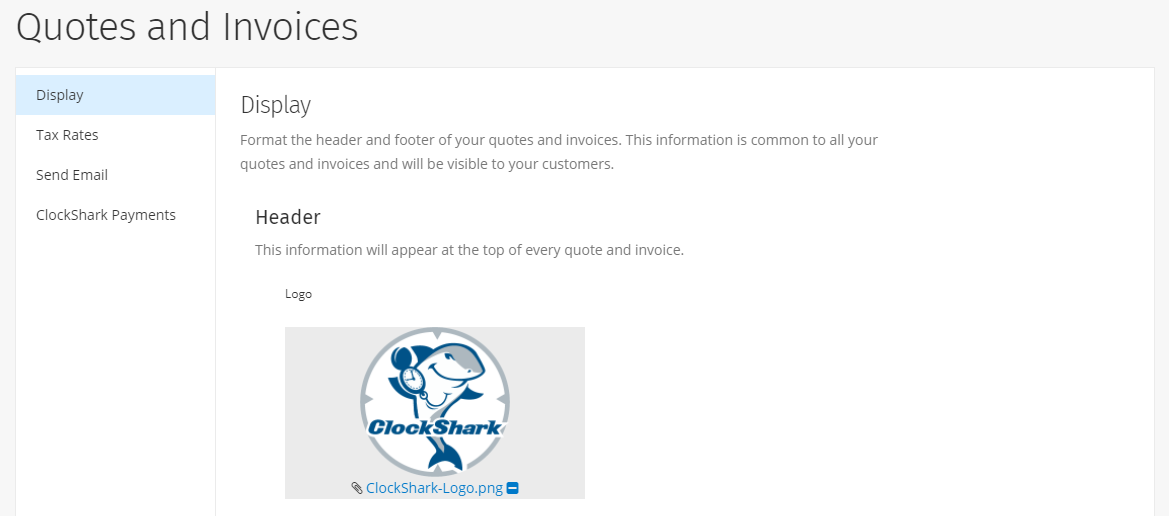 The ClockShark toolkit helps your company acquire jobs, work them, and get paid all inside one system. If you have any questions, please feel free to contact our Support team and get ready for answers!