Find details on connecting your ClockShark account with Sage 100 Contractor. Easily sync your employees, jobs, and cost codes!
Using the ClockShark and Sage 100 Contractor integration, you can easily map your Sage employees, jobs, and cost codes to your employees, jobs, and tasks in ClockShark.
This allows you to export timesheets to Sage 100 for payroll, invoicing, and job costing.
If you're ready to set up ClockShark with Sage 100, we recommend contacting a member of ClockShark's 5-Star Customer Success team so we can personally connect you with our Integration Specialists to walk you through your integration. You are our top priority, and we want things to go right from the start!
How Does It Work - Easy Set Up Steps
1. Start the Integration - Navigate to the Admin > Integrations screen and click the "Add" button on the Sage 100 tile.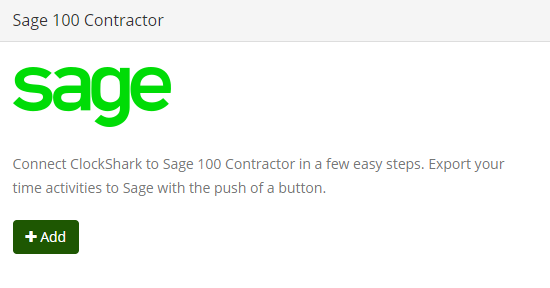 2. Get Your Ryvit Connector Activation Code

The Ryvit connector exchanges your company data between ClockShark and Sage, and the code is unique to your ClockShark account.
3. Install the Ryvit Connector - The connector install file lives in a compressed folder that will automatically download when you click the download link. Find that folder on your computer, and right-click it to extract the compressed files.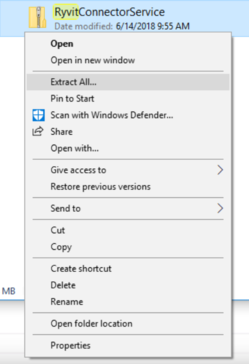 Once you have unzipped the files, click the installer file to install the connector.
4. Enter your activation code from Step 2 - When prompted, enter the Ryvit code that was generated in Step 2 of this tutorial. Click "Activate", and then click "Next" to proceed.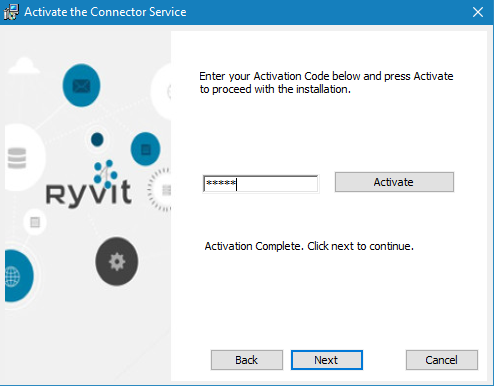 Note: Before this step, your computer may also ask you to allow the app to run, which you can click to permit.
5. Link Ryvit With Your Sage 100 Contractor Account - From inside your Sage 100 account, create an "API" security group from the "Utilities" menu.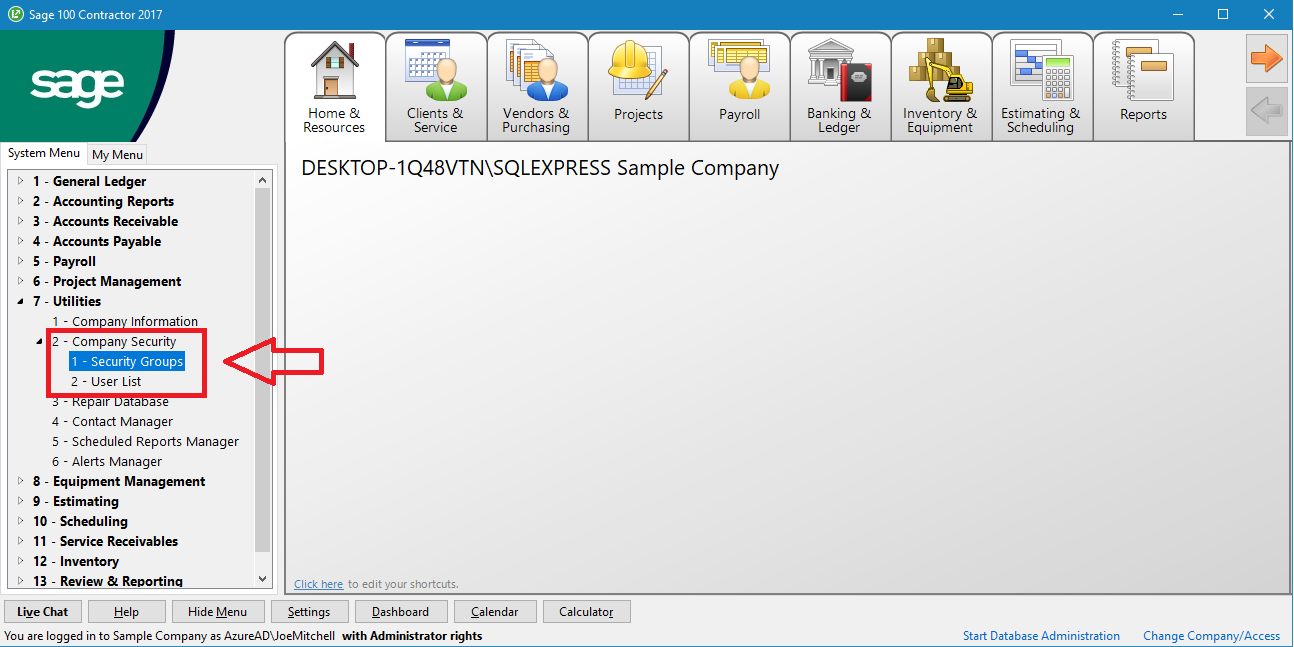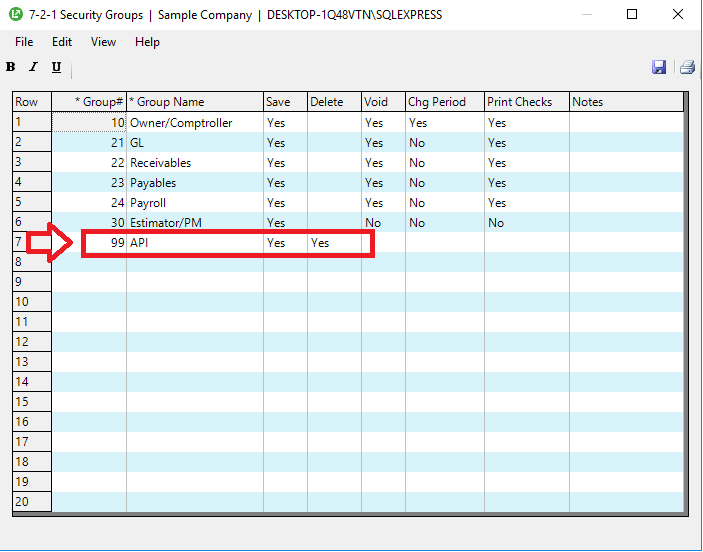 Then create an "API - User" user and add them to the newly created "API" security group.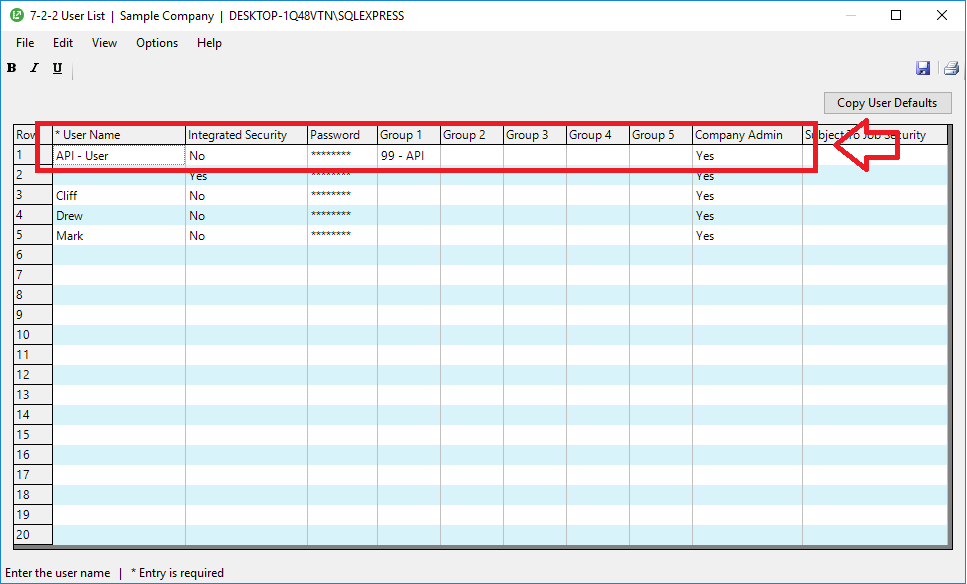 6. Enter the New Sage Username & Password in ClockShark - Complete the form that pops up when you click the "Enter the New Sage User's Name and Password" link.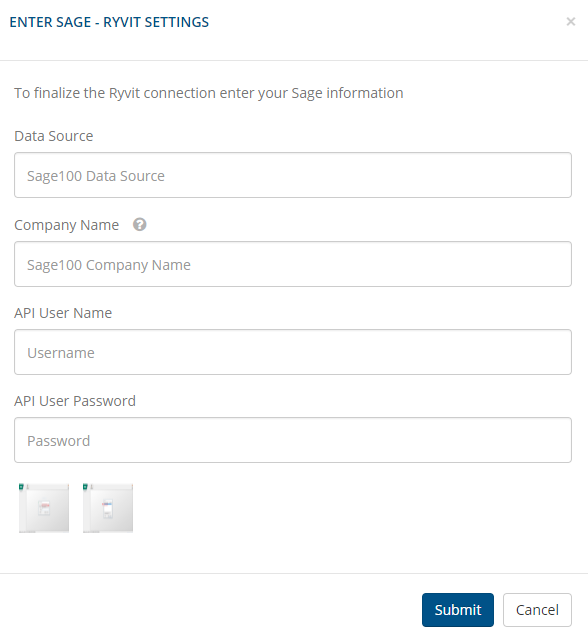 Data Source: This comes from your Sage 100 account (pictured below).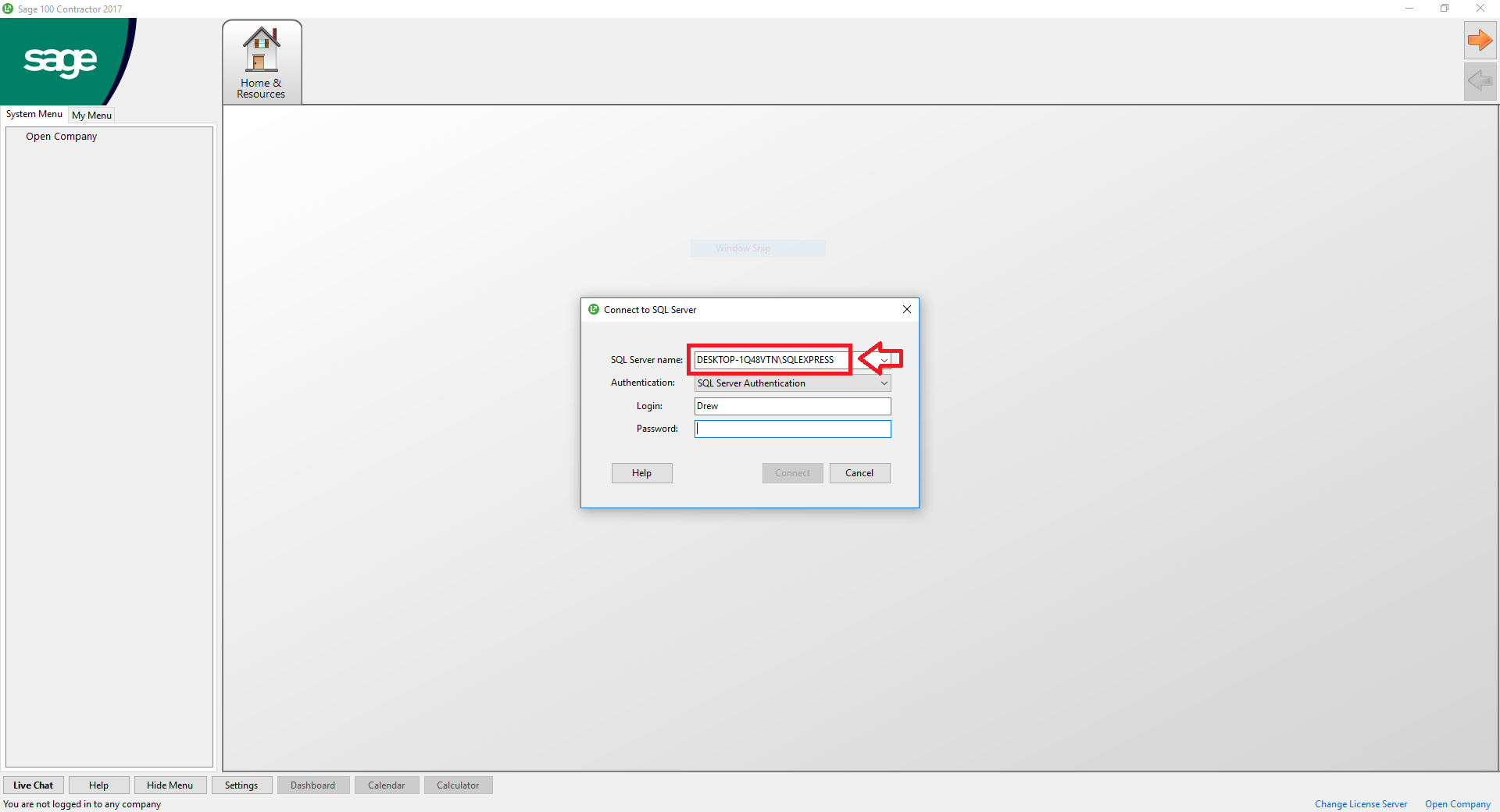 Company Name: This is your Sage 100 company name. Be sure to enter it exactly as it appears in Sage.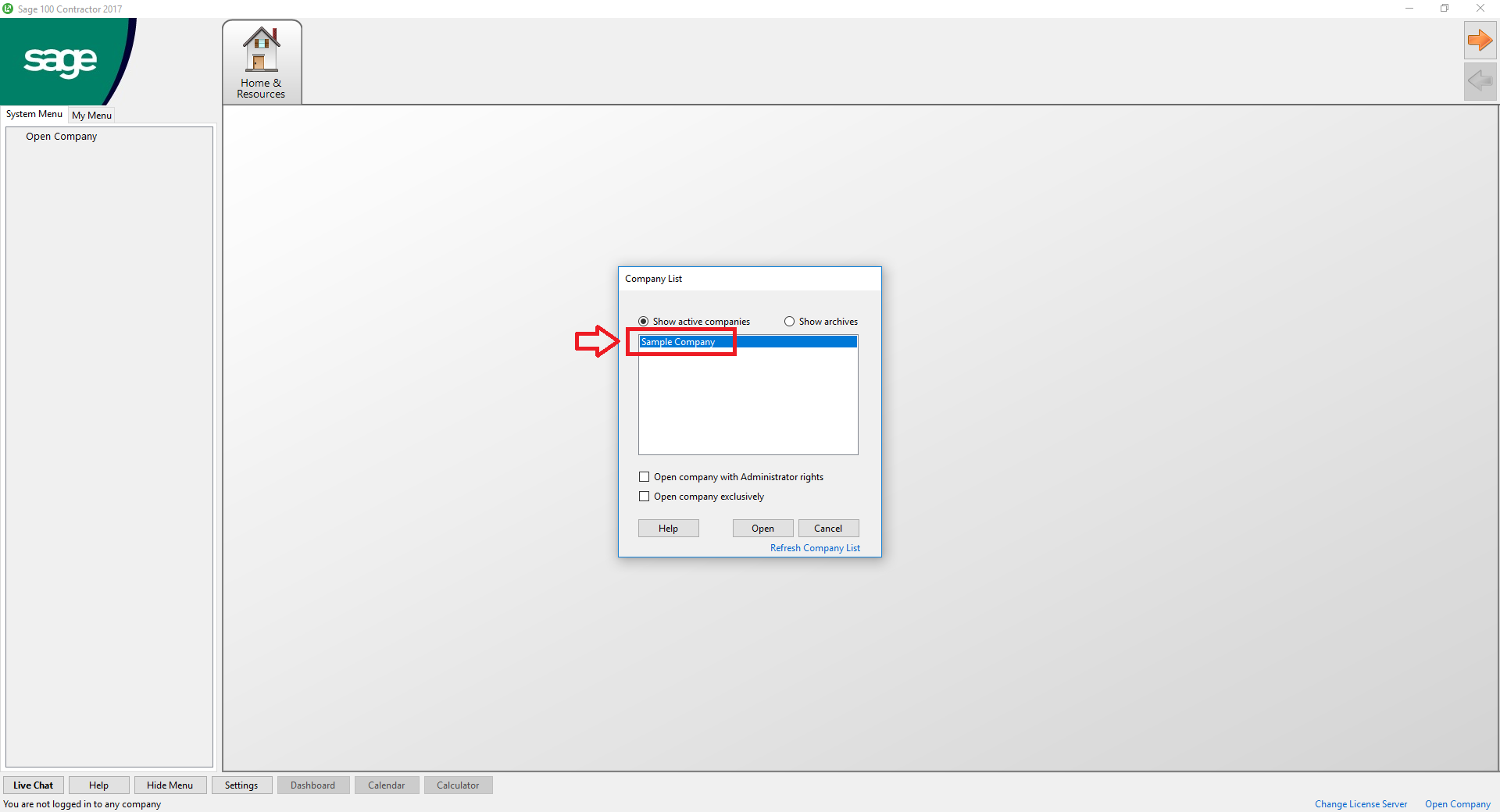 API User Name & Password: Enter the information for the user you created in Step 5 of this tutorial.
Then click "Submit."

7. Next you will want to go to the company's Database Administrative Server. Remember this icon?

Once logged in follow these steps to give make the API User a SysAdmin
Step 1: Add the API - User as an administrator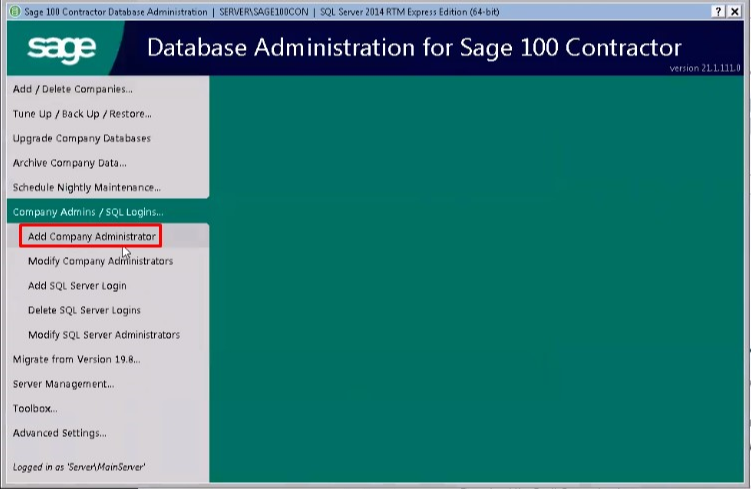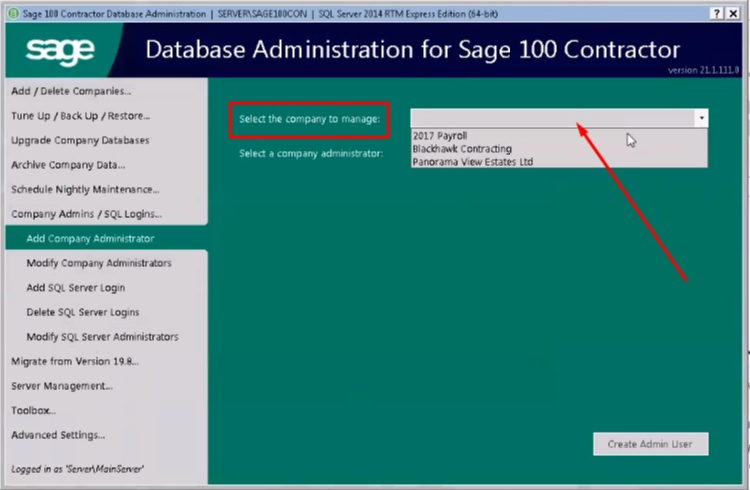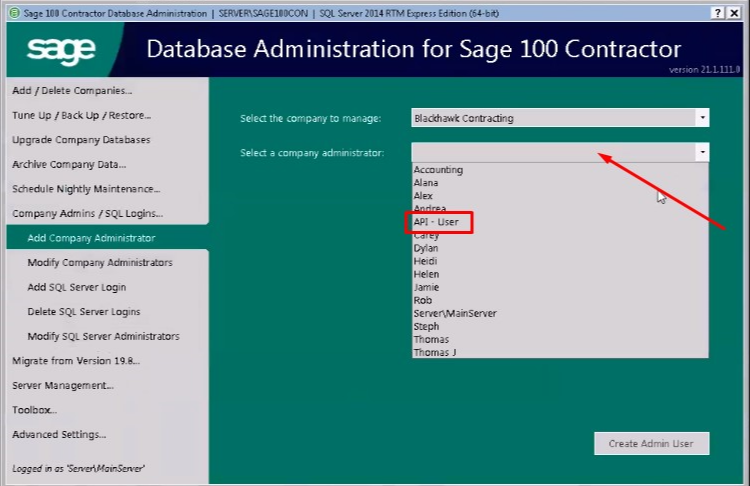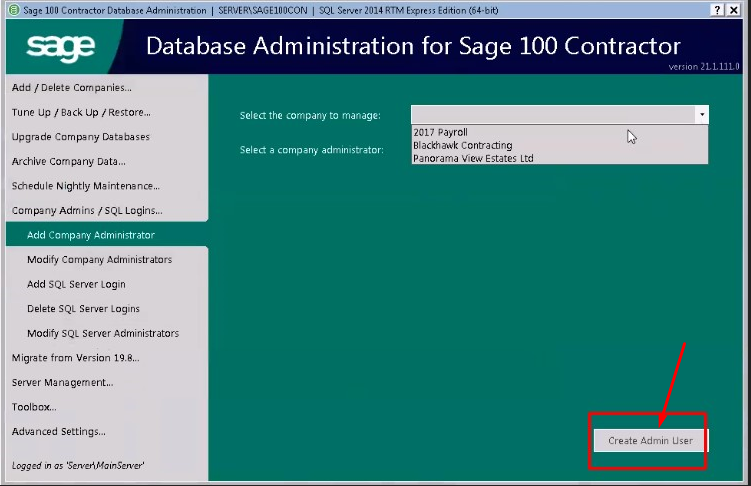 Step 2: - Make the API - User a SysAdmin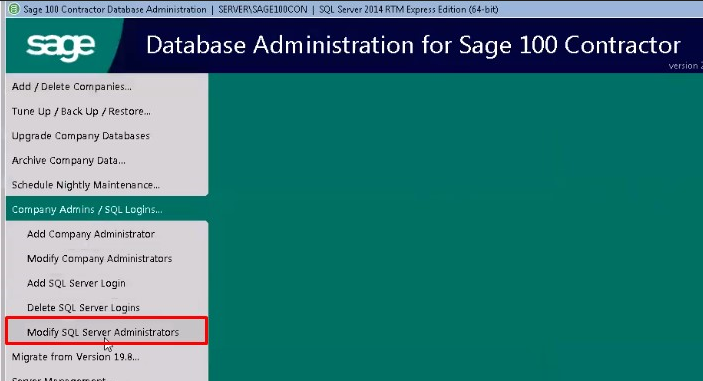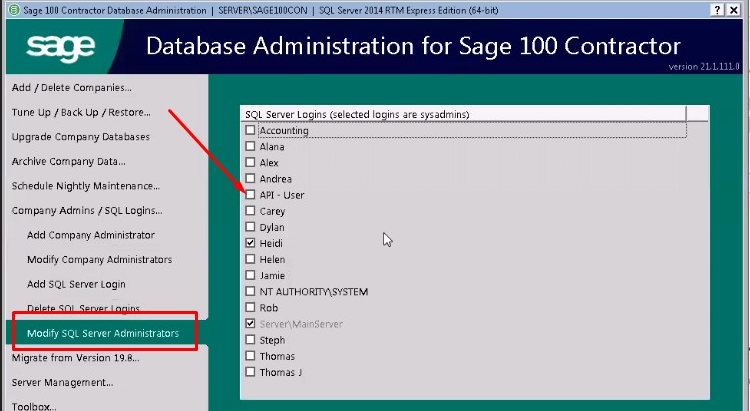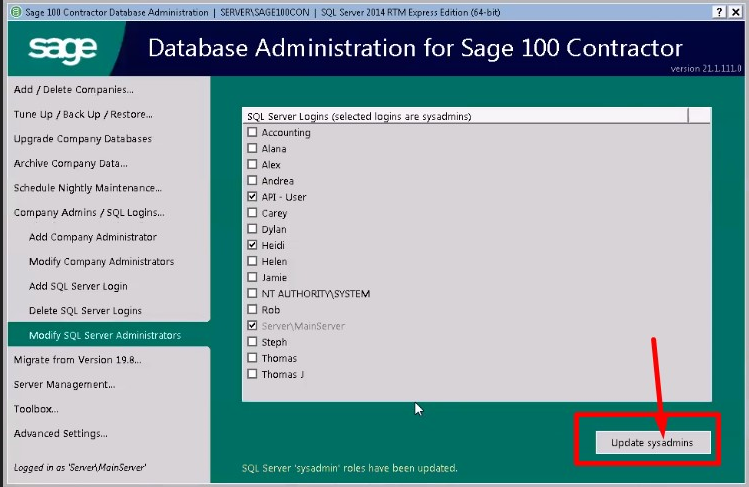 8. The Integration is now complete. Within 30 minutes you can go to the View and Edit existing mappings screen in the company's ClockShark account and hit the Green Sync Button in each of the three tabs. Hit the edit button to the right to map ClockShark items and Sage items together.

Both the Employees tab and the Cost Codes tab function by looking for any new items in Sage and bringing that item into the mapping page as options to map too. They will automatically map and connect to an item in ClockShark if that item is already created and has the exact same name.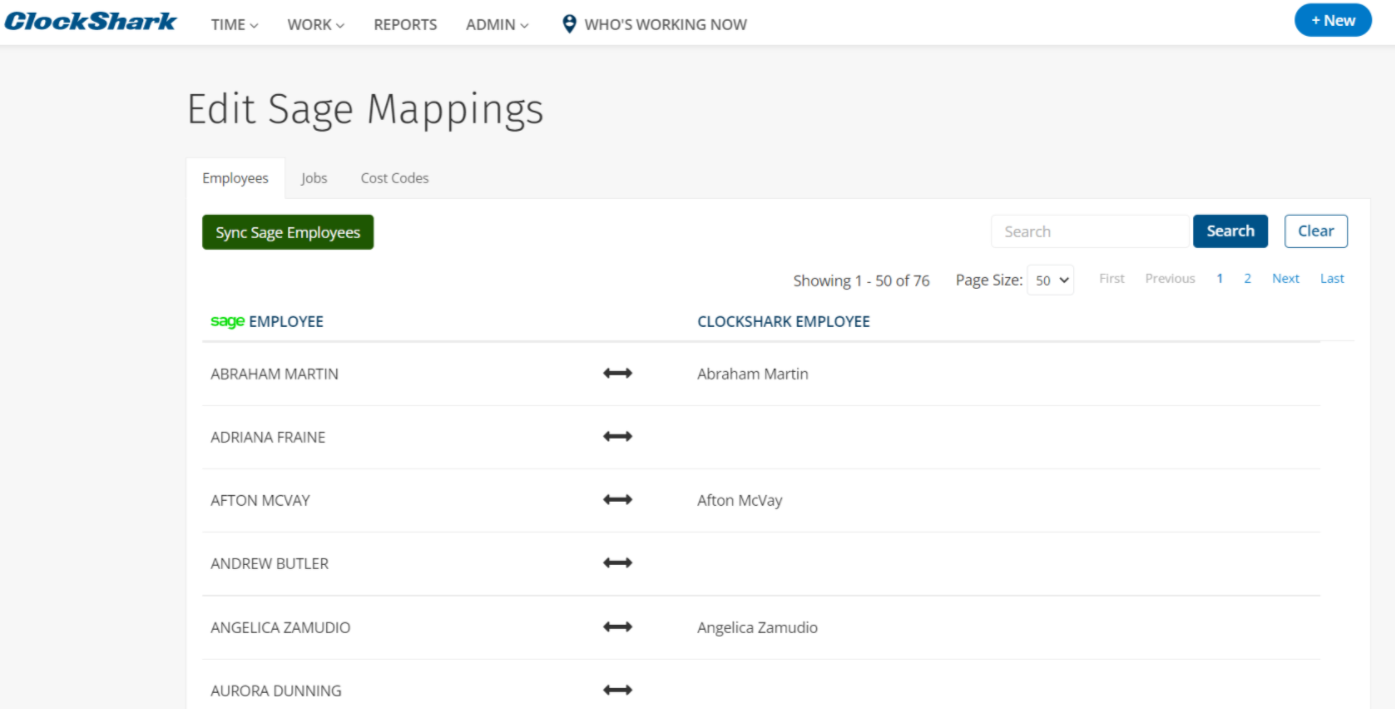 The Jobs tab does have a little more functionality, it is capable of automatically mapping and also automatically creating new items in ClockShark. The automatic mapping has the same behavior as listed above. But it can also automatically create a new job in ClockShark if that job has not previously been synced with ClockShark and if it does not match a current job name in ClockShark.
Note: With this process, you will run into an error if you try to automatically create a job from Sage that already has the exact name as a job in ClockShark.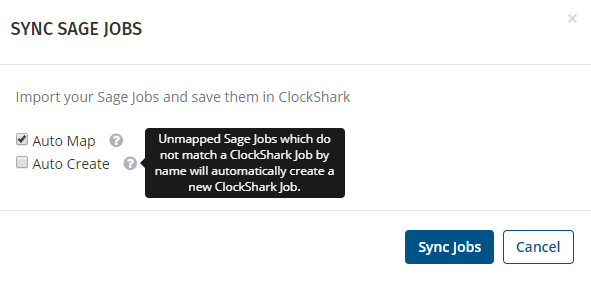 Congratulations! You have completed the ClockShark and Sage 100 Contractor integration. You can now control mappings for your employees and jobs, and you can export time from your Timesheets screen.
If you have any questions or difficulty getting set up with Sage 100 Contractor, please just let us know!