Learn how to use roles and manager permissions to help ClockShark mirror your company's organizational structure
Just like in your business, certain people have certain responsibilities. So it makes sense that not every employee should have full access to everything you can do in ClockShark. For example, a field supervisor probably needs to see their team's schedules and be able to edit them, but a new crewman doesn't. That's where roles and manager permissions come in. You can use them to ensure the right people have the right responsibilities in ClockShark.
Understanding Roles in ClockShark
Understanding Permissions
By default, all employees can view customers, jobs, and tasks they have access to on both the mobile app and website. They can also add and edit notes and attachments to their timesheets. But if you want your employee to have more permissions, check one of the boxes below to allow your employee to: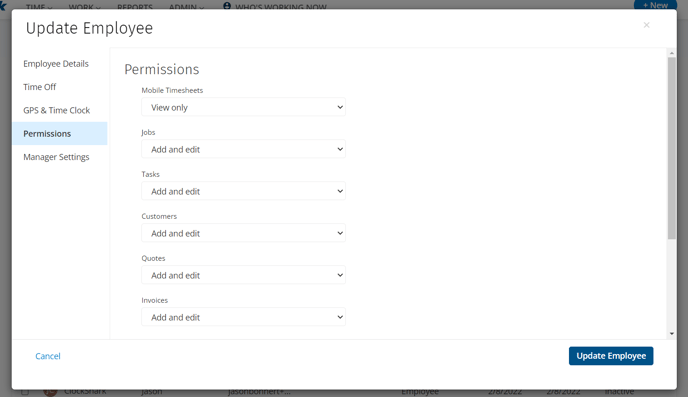 Understanding Manager Settings
You can grant manager settings to anyone you assign the role of an employee in ClockShark. When you do assign them, the employee will have access to specific management functions related to other employees' timesheets and schedules.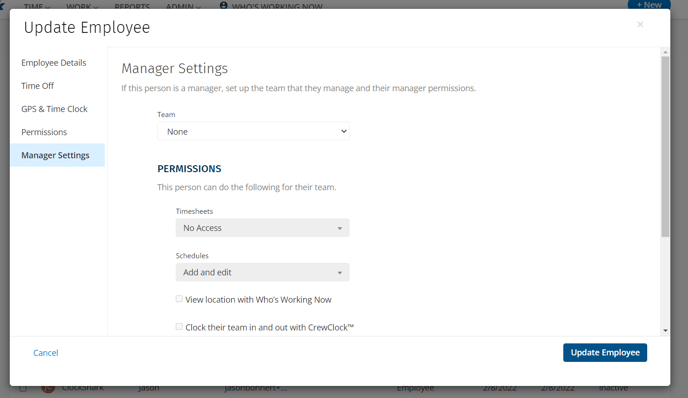 If you decide to give an employee Manager Settings, you'll assign them a team of employees. Choose to give them manager permissions over everyone, only certain people, or everyone except certain people (by default, the manager settings are set to "None"). Here's a list of permissions you can give them:
Note: If you update your employee's settings, they must sync their mobile app before the changes will take effect. They can do this in the app by tapping the Menu icon in the top left of the screen, tapping Sync, and then tapping the Sync Now button.
Have a question?
Contact customer support to learn more. We're happy to help!