Instead of using your password, you can log in to the ClockShark app with a special link that we'll send right to your email
For employees and administrators logging into the mobile app, ClockShark offers an alternative sign-in method that doesn't involve using passwords and saves lots of time. Users simply enter their email address and then log in to ClockShark by clicking a link that we email to them.
That's right. No more memorizing passwords.
How It Works
Open the ClockShark mobile app and press the "Trouble signing in? Get a link" button.

Enter your email address and press "Send My Link"

Open your email inbox and find the message. Click the orange "Sign In" button.

That's it! The link will auto-open in the ClockShark app and log you in.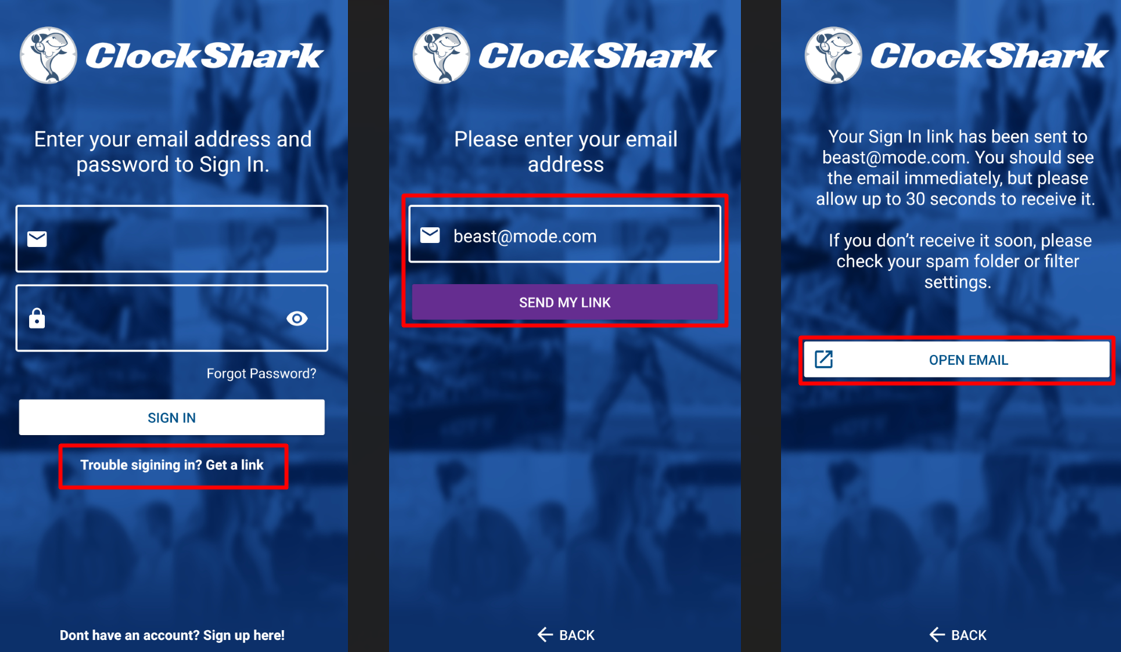 Things to Keep In Mind
Be sure to enter the email address that you log in to ClockShark with.

If your account is locked from too many failed login attempts with your actual password, the purple button can't help you. Let our Customer Support team know, and we'll get your account unlocked.

Sign-in links only work via the mobile app.

Links expire after one hour, or after being used. Links will also expire as you request new ones.
You're now 100% up and running with this painless way to log into the ClockShark mobile app in the event you can't remember your password.
If you have any questions or concerns, please let us know at hello@clockshark.com