Customize your quotes and invoices and learn how to get started with ClockShark Payments
ClockShark Quotes, Invoices, and Payments are available on the Standard and Pro Plans
Make the right impression every time, and streamline your workflow by customizing your Quotes and Invoices. Visit the Quotes, Invoices, and Payments Settings page - located under the Admin tab > then click Quotes, Invoices, and Payments (under the Settings section) - where you can fully manage default headers, footers, tax rates, and more!
Display
On the display tab, you'll have the option to customize the header for your Quotes and Invoices as well as the default footers for both.
For the Header area, you can attach a company logo, and input your company name, address, phone number, and email address. Some of this information may get brought over from your Company Settings, but you can alter either without affecting the other.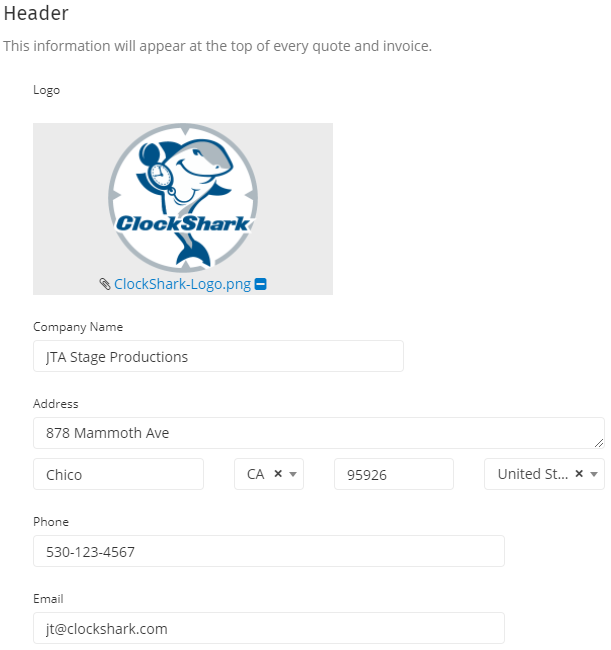 The Footer area allows you to enter separate default messages that you want to display on your quotes and invoices. Even with these defaults set, you can always alter the footers on each individual quote or invoice.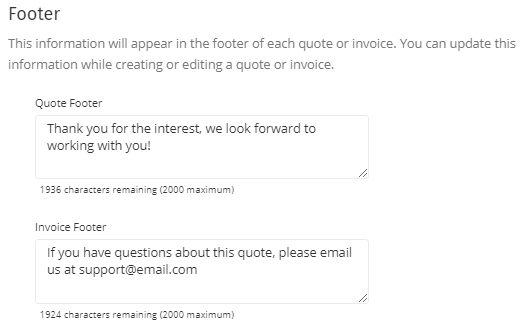 Tax Rates
The Tax Rates tab allows you to create, edit, and delete your tax rates. While you can always create a new tax rate while editing a Quote or Invoice, you can't manage existing ones from there.
Here you can change the name, rate, and even order of the tax rates. Changing the order will affect how they are displayed when you select tax rates while creating a Quote or Invoice.
An important note is that changing tax rates on this page does not affect Quotes and Invoices that you have already created. So say I have a tax rate called "City of Chico Tax". If this tax rate drops next year to 7.5%, I can change that value here without affecting all my past Quotes and Invoices. So Quotes and Invoices from here on out will use the 7.5% while my previous ones use 8.25% which was correct at that time. This helps keep your "Paid" invoices and accepted Quotes from changing values. Alternatively, you can create a new tax rate instead of editing one.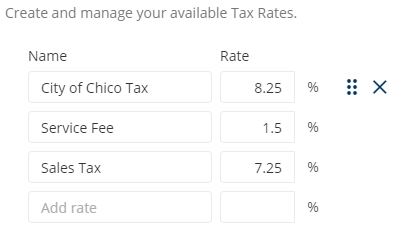 Send Email
This tab is where you can set the default messages that are used when you send a Quote or Invoice. Just like footers, even with these defaults set, you can always alter the email message when you are sending a quote or invoice.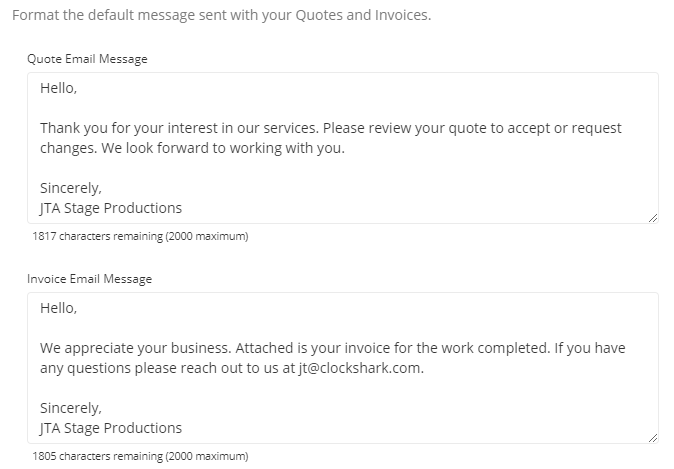 ClockShark Payments
This last tab is dedicated to ClockShark Payments. Coming soon this is where you can sign up and get paid quicker!
If you have any questions along the way please feel free to contact our Support team and get ready for answers!