Link Quotes, Jobs, and Invoices together for greater organization and flexible workflows
ClockShark Quotes and Invoices are available on the Standard and Pro Plans
With ClockShark, you can connect your Quotes, Jobs, and Invoices together to help track your workflow from start to finish. This can all happen automatically by creating each item from the other items, but sometimes you may want to manually update these associations as well. This is where the Manage Associations tool comes into play.
Managing Associations
From each Quote, Job, or Invoice you will see an option to manage the associations to the other items. Did you create a Job but forgot to connect it to the corresponding quote? You can fix that here. Head to the Job and select "Manage Associations" from the Job list page or from the Actions drop-down on the Job page. You will then be presented with a pop-up allowing you to add any Quotes and Invoices you want to connect together.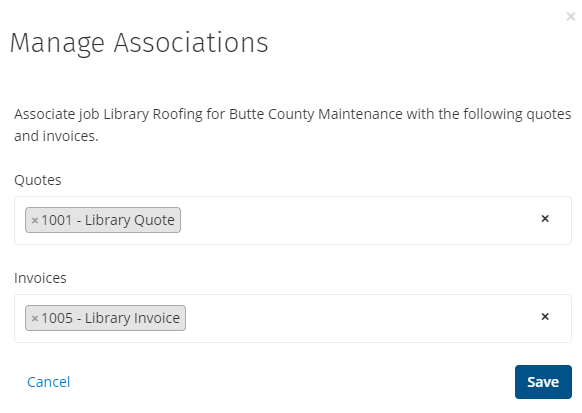 Note that you can only connect Quotes, Jobs, and Invoices that share the same customer or do not currently have a customer. This helps keep you organized to make sure that the correct customer gets the correct information. The top part of each drop-down will include the quotes, jobs, and invoices already associated with the customer while the bottom section will show quotes, jobs, and invoices that are not assigned to any customers. If you choose an unassigned item, it will be updated to have the same customer as the item you are associating it with.
If you select Manage Associations for a quote, job, or invoice that doesn't currently have an assigned customer, then you will be prompted to pick one before you can move forward.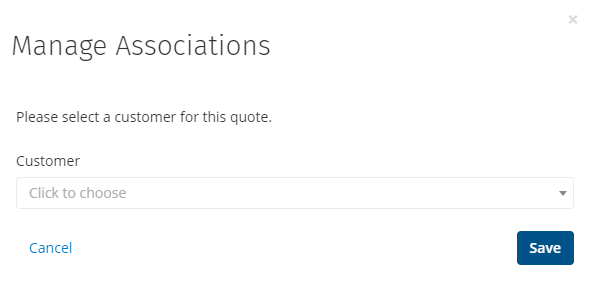 You can create as many associations as you would like. So a Job can be associated with multiple Quotes (great for change orders) and multiple invoices. Likewise, a single Quote can be associated with multiple Jobs and Invoices.
We saw an example for Jobs above, but Quotes and Invoices behave the same way. Click "Manage Associations" on a Quote to see Jobs and Invoices available to connect. Follow the same steps on an Invoice to connect Quotes and Jobs.
Note: A Job, Quote, or Invoice can't be associated with more than one Customer at the same time.
Bulk Updating
You can also add associations in bulk to save time when you need to associate multiple quotes with the same jobs, invoices, or vice versa. For example, on the Quotes list page, select the checkboxes for a number of Quotes from the list, and press "Add Associations." Here you can select Jobs and Invoices to add associations for. So in this example, all the Quotes I have selected will now gain associations with the Job "Chico Library" and the "1005 - Library Invoice."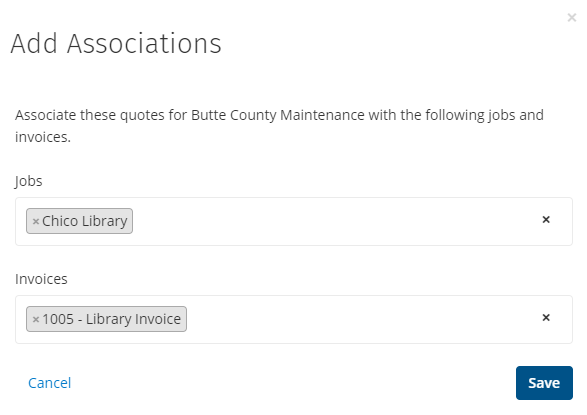 Note: You can add associations in bulk, but you cannot overwrite any associations already assigned to the selected items.
If your bulk selection includes items that do not belong to a Customer, then you will be prompted to select one first. If your selection contains items that belong to different Customers, you will also be prompted to choose a common Customer for all of the items. Be aware that if you change the Customer associated with a Quote, Invoice, or Job, it will remove any of the associations the item had previously, as the associations need to match with the selected Customer.
This method of bulk associating works the same for Jobs and Invoices as we just saw with Quotes.
And that's all there is to it. Managing associations helps you and your team stay organized and see the progression made from Quotes to Jobs to Invoices. If you have any questions along the way please feel free to contact our Support team and get ready for answers!