Use Quotes, Jobs, and Invoices to keep yourself organized even when the work changes
ClockShark Quotes and Invoices are only available on the Expert Plan

Keeping track of jobs is difficult on its own, but when the job constantly changes that can really throw a wrench in things. However, ClockShark can help make sense of this by helping you track your change orders.
When you are managing the Quote to Job to Invoice to Payment workflow you have the ability to use our Manage Associations tool to help keep everything connected and organized. This also helps when dealing with Change Orders.
Let's say you are in the process of helping a client remodel their backyard. You already quoted them for new plants, installation, labor, and equipment required. They accepted the quote, you converted that into a Job and your team is hard at work. But now the client calls and says he wants you to install a pool in his backyard as well.
You can create a second quote for the client with the desired changes. Then you can associate the quote with the Job your team is currently working on, or even create a new Job specifically for the change order. Then go ahead and schedule a new shift for this change order or schedule the new Job you created. You can also use our Conversations feature to open internal communication and have your team help you with this process by granting them permission to view and edit these Quotes, Invoices, and Jobs. You can read more about that process here.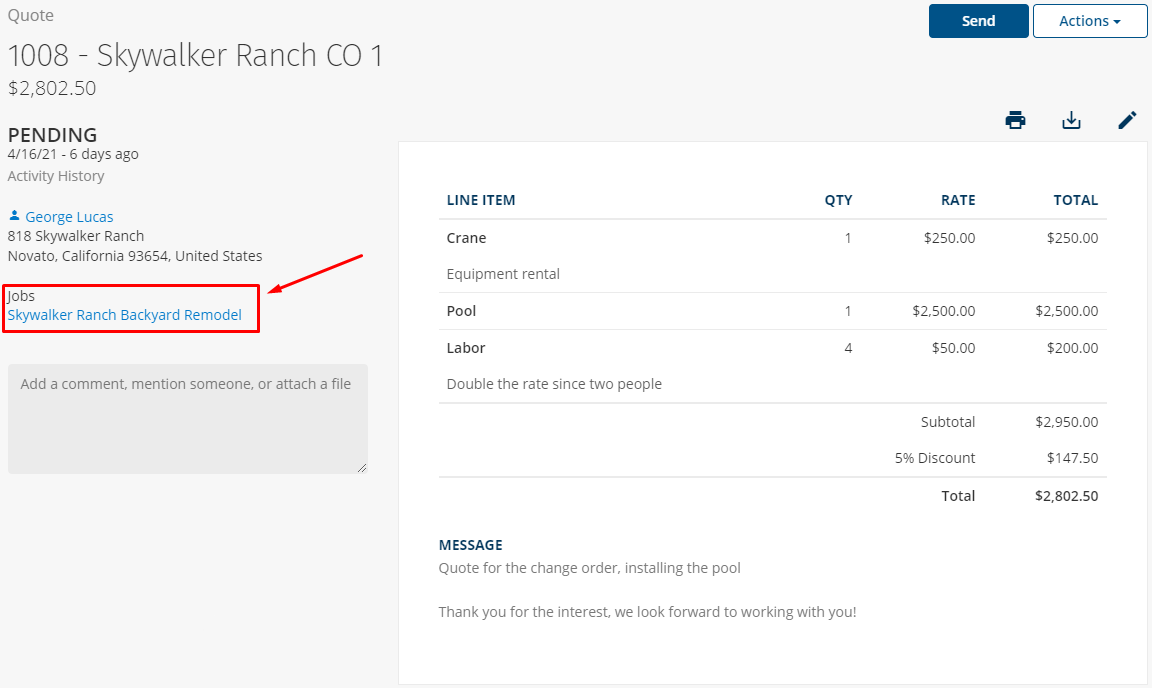 When viewing the Job, you will be able to see all associated Quotes and Invoices for easy reference.

When it comes time to invoice the client, you can make one Invoice for all the Quotes and Jobs created or even charge them separately. You can use our billable time feature to bill the customer for the time tracked in ClockShark. This is really handy if you have multiple Jobs because you can bring all of that time into one invoice. You can also create individual Invoices directly from each Quote.
Viewing a Customer's details page is a great way to see all the Quotes, Invoices, and Jobs associated with them and take actions like recording payments or sending quotes and invoices. When viewing the "Quotes & Invoices" tab you can also see the current balance that the customer owes you.
Note: You can also run the Collections report to see the balance that all your customers owe you, read more about that report here.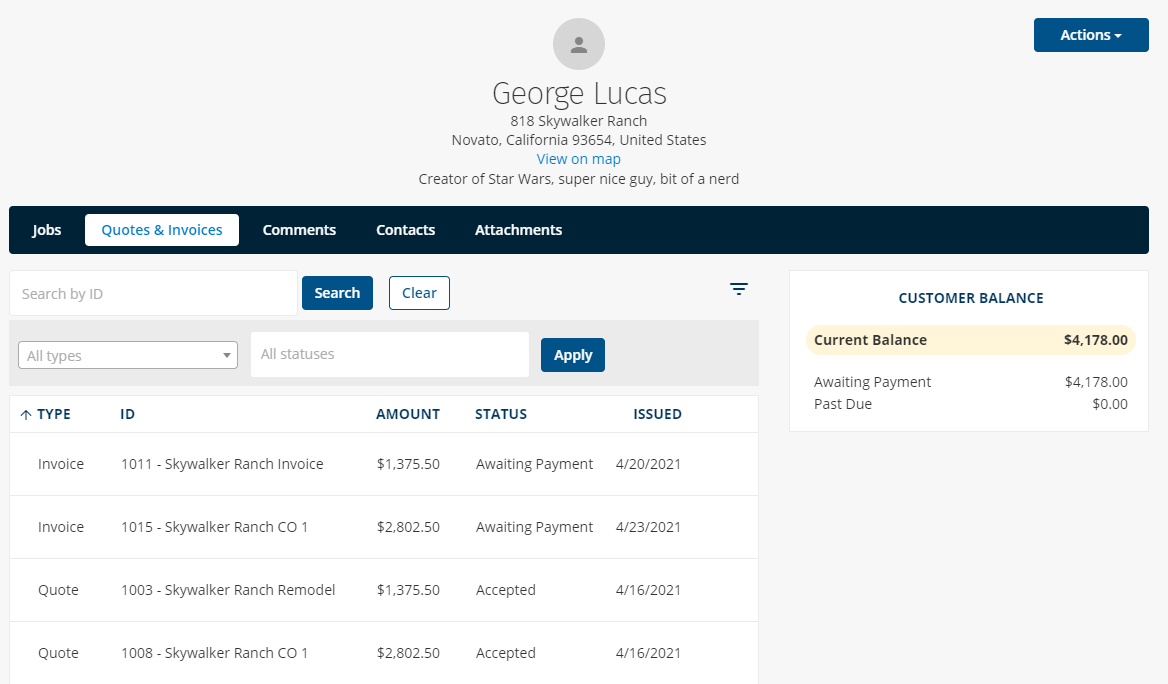 We went over a specific workflow for this change order example, but this entire process is extremely flexible to match your company. Some users may edit quotes to accommodate change orders and resend them. Some may want to create multiple Quotes that feed into multiple Jobs. Some may want one Invoice, while others create an Invoice for every change order. Get creative while staying organized!
If you have any questions along the way please feel free to contact our Support team and get ready for answers!