Answers to how you are billed for ClockShark
ClockShark offers two plans: the Standard and the Pro. The Standard plan has a $16 a month base fee + $7 a month per user. The Pro plan has a $30 a month base fee + $9 a month per user. Regardless of your plan, you get 1 free admin on the account (any additional admin will cost a user fee). You are only charged for active users (inactive users do not count toward your bill). You must mark the user as inactive. ClockShark charges are based on users, not on usage.
Your Billing and Payment page shows past invoices as well as upcoming invoices. The past invoices show the user fee, the base fee, how much those fees are, the total, and the invoice number that the bill was paid toward. Below is an example of a paid invoice. This invoice was for the Standard plan with 6 users. The user fee is 6 users x 7 dollars for a total of $42. The base fee is $16. Those items added together equal $58 and you can see that the bill was paid on invoice 6E39CEDC-0011.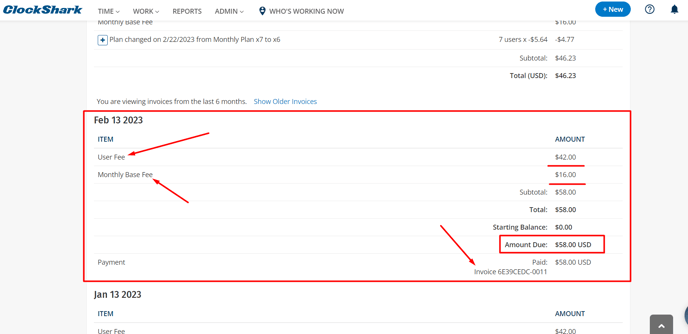 You will receive a prorated charge on your upcoming bill when you add or remove users from your account. For example, below is a picture of an upcoming invoice where an employee has been removed. The employee was marked inactive on February 22, but you already paid for that user for the entire month. You then receive a credit for the unused time on your next bill - in this case, you will get $4.77 off your next bill.

You can also click the plus button to see more details about the change that was made to affect your upcoming invoice.
Additionally, a copy of the invoice is emailed to the primary contact on your account. This "Primary Email" is located in the Company Settings. You can navigate here by clicking on Admin > Company > Company Details.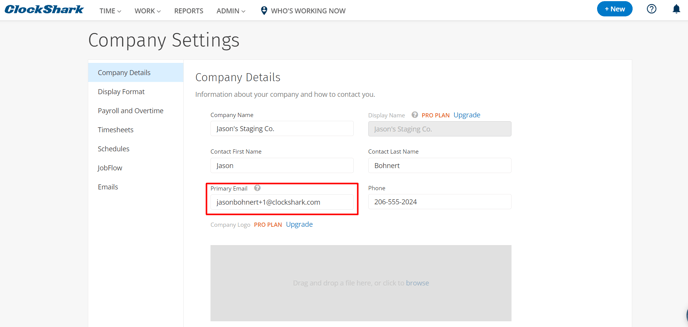 Please note that ClockShark bills you for the month ahead - i.e. if you are charged on the 4th you are all paid up until the 4th of next month.
If you ever have any confusion about your bill, please contact our Customer Support team and they will be able to help you out.