Learn how to create quotes in ClockShark that you can send to your customers
ClockShark Quotes are available on the Standard and Pro Plans
Every business is unique. That's why ClockShark provides you with the flexibility to start your quotes from multiple spots on the website as well as the mobile app. You can create quotes from:
While looking at a specific Customer

From the Jobs Page

While looking at a specific Job
Creating Quotes
Quote Header
Once you start adding a quote, the first thing you will want to do is assign a Customer. You can choose from your existing Customer list or create a new Customer from this page.
Note: A customer is only required to get past the "draft" status. While the Quote is in draft status you can use it as a template or keep it around if you need more time to finish it.
Next, you can choose the email address where you want to send this quote. You can choose from contacts already assigned to the Customer or enter a new email. You can add multiple recipients. Next, you can give your Quote an ID for easy identification for you and your customer. You can choose the name of the project like "Mason Street Remodel" or you can use our "Generate ID" link to automatically assign the next available Quote ID. Next, we have the issue date which will default to today, but you can customize this as needed.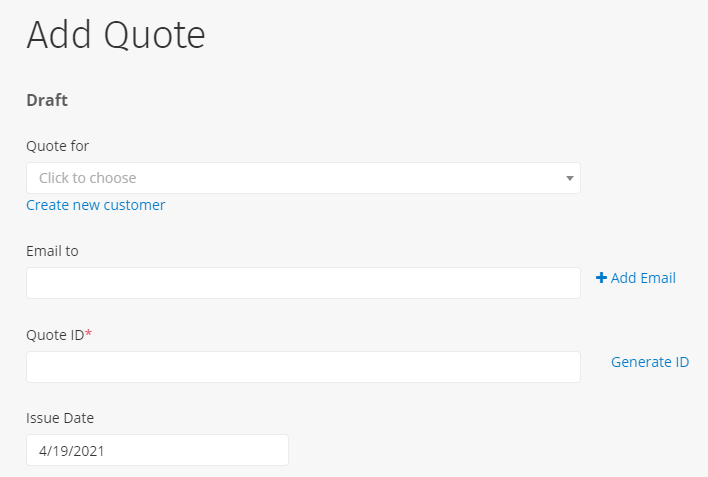 Sections and Line Items
Now we are on to sections and line items and you can get really creative here. Think of sections as a grouping title for line items to help you organize things for yourself and your customer. The line items themselves are whatever you want to itemize for the Quote.
Sections just consist of a title. Line items consist of a line item title, quantity, rate, total, description, and any applicable tax rates. Note that everything is optional, but you need at least one field filled in for it to save.
You can add as many line items and sections as you need. These can be things like labor charges, parts and materials, administrative fees, or anything else you need to charge for. You can also drag line items underneath a section to group it inside and they will appear indented. Just drag the line item up or down until it is inside the grouping line of the section. Once line items are added to a section, you can move the section header to move the entire section. Likewise, if you delete the section header, that will delete the entire section.

Quote Additions and Footer
Once you have your sections and line items to your liking, you can move on to the bottom section. The bottom section consists of your subtotal of charges, taxes, any discounts you want to provide, and then a grand total.
You can add a message to the customer, any supporting documents as attachments (e.g. contracts, pictures of the job site, etc.), and a footer message.
Tax rates and default footers can be managed in the Quotes, Invoices, and Payments settings.

And now your Quote is created! Save your quote and send it later, or you can save and send it all at once. For more information on the entire quoting process in ClockShark, check out our Using Quotes article.
If you have any questions along the way please feel free to contact our Support team and get ready for answers!