Automatically deduct a lunch from your employees' shifts
If you'd like to have Lunch breaks automatically inserted in your Employee's timesheet, you can enable the Automatic Lunch Deduction feature. Automatic Lunch Deduction can be enabled in the Admin > Company > Timesheets tab. This feature is very simple and whenever the employee's time exceeds the limit you set, the lunch break will be inserted at noon, regardless of what the employee is doing. If the employee is not on the clock at noon for that day then it will be inserted as close to noon as possible. Also, since they will never "clock out" or start a break, the GPS tracking will run for the whole day.
The automatically inserted breaks will be added by the system overnight for all timesheets generated that day. And if the employee works an overnight shift, it will still be processed the following day! So if you do not see the automatic lunch right when the employee clocks out, just know that it will be there tomorrow!
Note: Timesheet Approvals lock down a timesheet and prevent further edits so that the time stays correct for payroll and more. If a timesheet is approved before the automatic break insert occurs then the shift will not have the break inserted.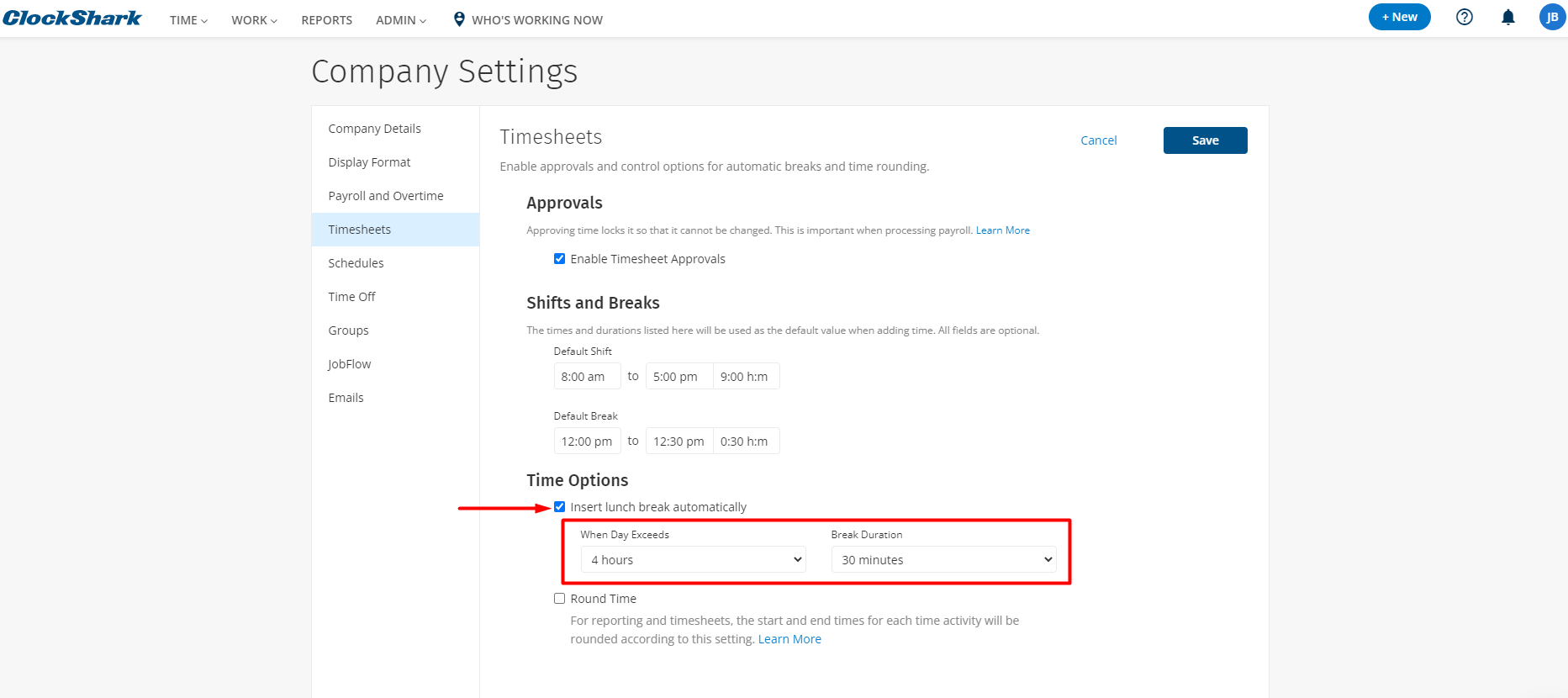 If you would prefer to have Employees clock in and out manually for lunch there is a Start Break button in the mobile app. In that case, you'll leave the Automatic Lunch Deduction feature disabled.

Note: If the Automatic Lunch Deduction is activated and employees also take lunches manually, there can be duplicate lunch breaks! To be specific, the automatic lunch break will look to see if the employee has taken a break that is longer than the auto break. If it is, then no break will be automatically inserted, and if it is not then the auto break will also be added. An example is if you have a 30-minute automatic lunch break, and your employee takes a 20-minute break, then the 30-minute automatic break will be added as well.
If you have any questions along the way please feel free to contact our Support team and get ready for answers!