How to set up your employees in ClockShark
Construction and field-service companies employ all sorts of workers — from the office staff to employees to 1099 subcontractors. Each of them uses ClockShark in different ways and should have different levels of access. That's why ClockShark made the employee settings customizable — so you have control over who can do what in ClockShark.
How to Add Employees
There are two main ways you can add employees. First, log into the ClockShark website and follow these instructions:
Click the Admin tab at the top of the site

Under the People section click Employees

From the Employees page, click the green +Add Employee button

Enter the employee's information - we will go over the employee information you will need below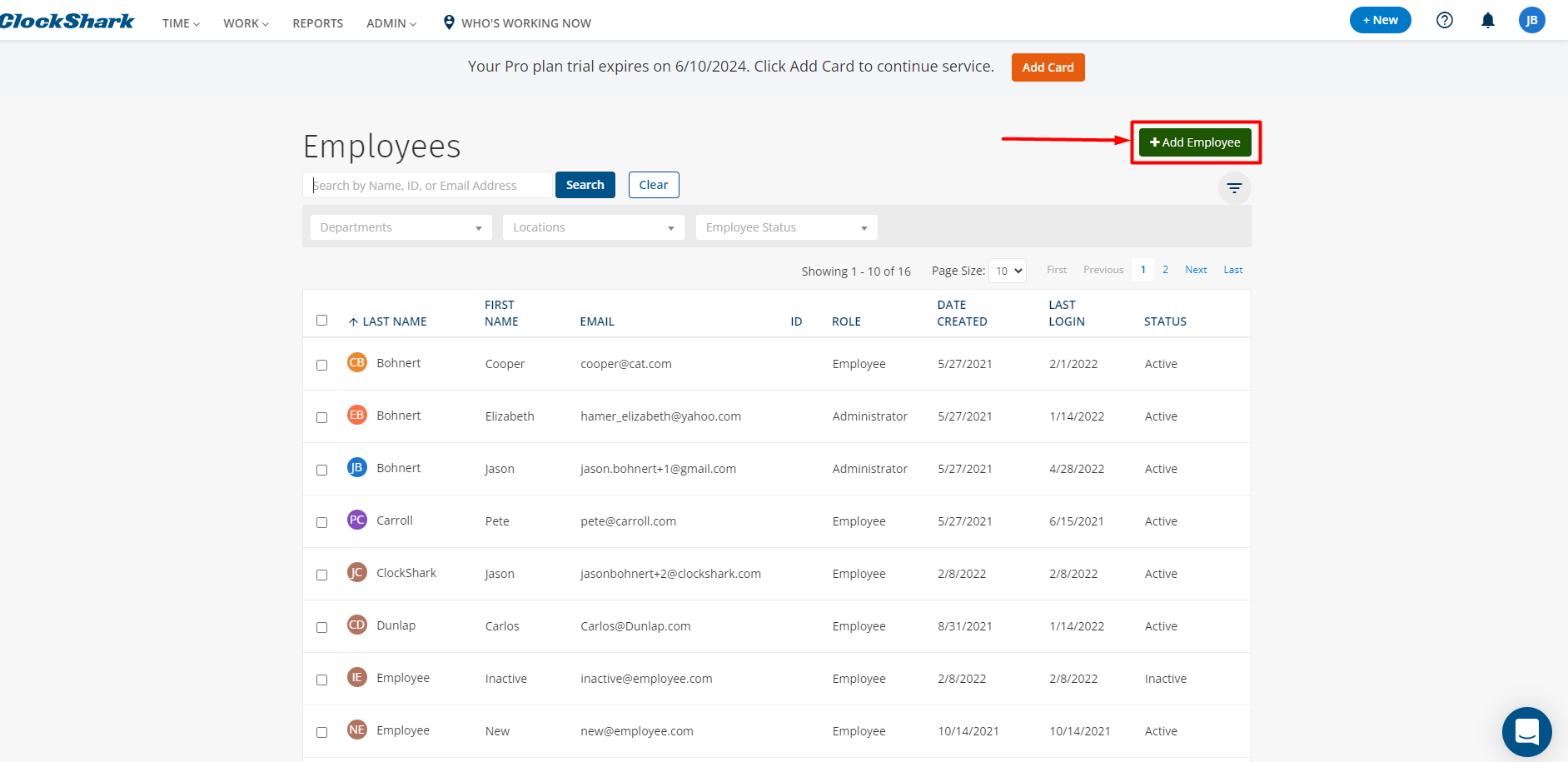 The second method is as follows:
From any page, press the blue +New button, which is always available in the top-right corner of the screen

Click Employee

Enter the employee's information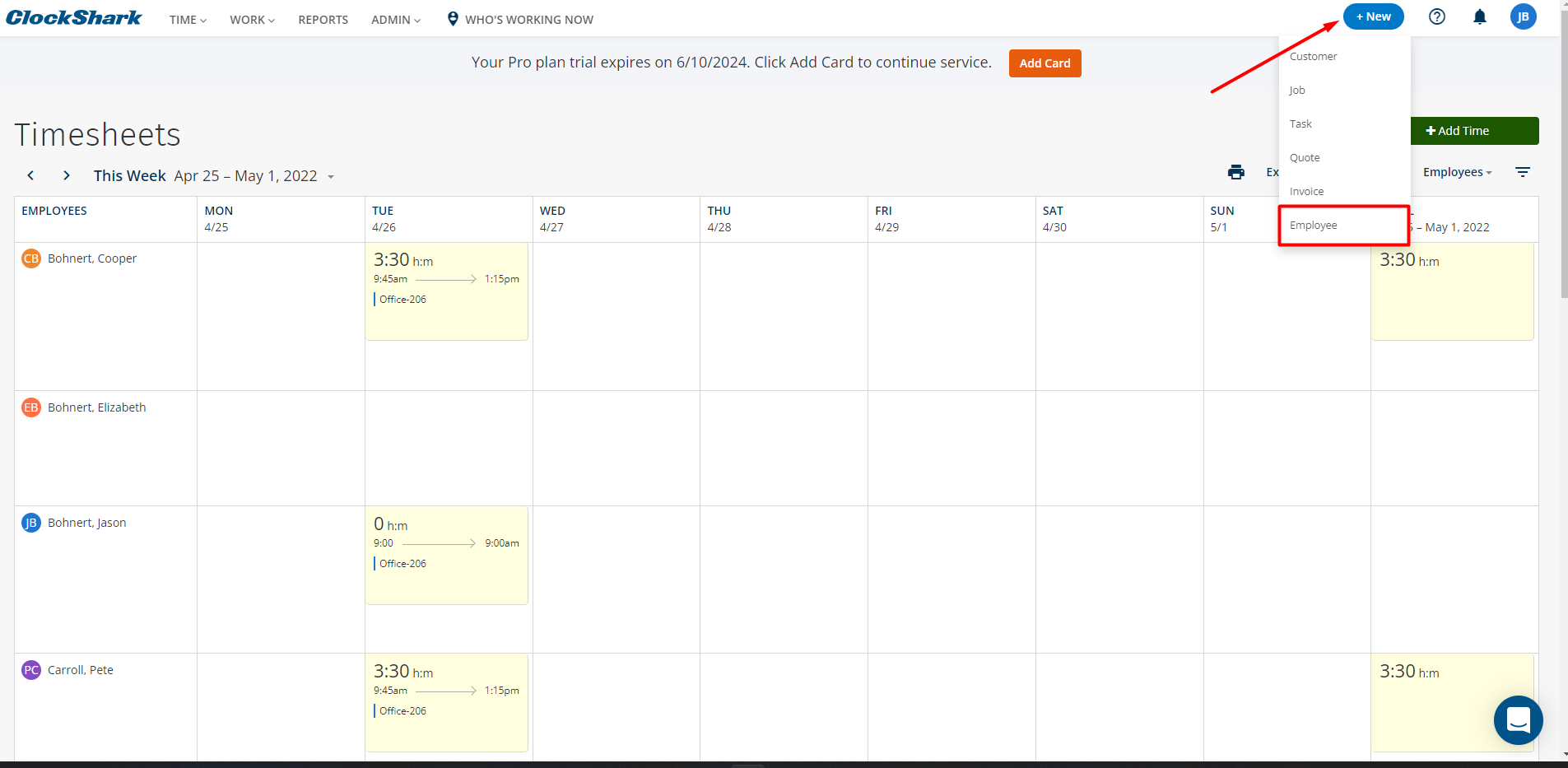 A third option is to bulk upload employees using a CSV spreadsheet. To learn more about data import, click this link. Additionally, some integrations, like QuickBooks, can import employees.
Adding Your Employee's Information
Fill in the following information for each employee:
Employee name: Enter your employee's first and last name.

Employee ID: This field is optional. You can use it to create an internal ID in ClockShark for timesheets, schedules, and reports.

Email, Phone Number, and Password: Add the employee's email address or phone number and create a password for them to use when logging into the website and mobile app. The password is case-sensitive. Your employee will be prompted to change their password when they accept the ClockShark invitation.

Status: By default, the employee will be Active. However, you can make your employee Inactive by pressing the drop-down menu and choosing Inactive. Inactive employees will not receive the setup email or text message and do not count toward your user count.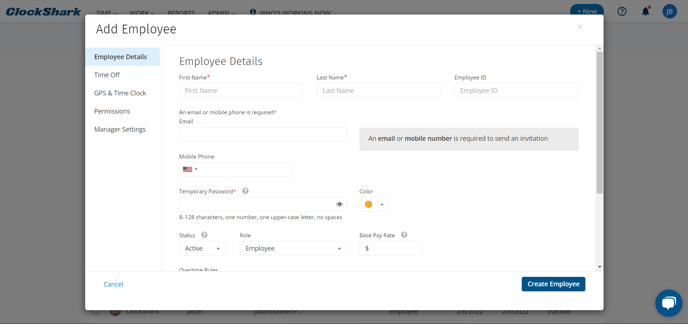 Color: Choose a color to keep your employees organized (the default color is orange). For example, make your field employees green and your office employees blue.

Base Pay Rate: You can set a base pay rate to help calculate the true cost of labor and make reports (like the Pay Rate Report) more accurate.

Overtime: Assign your employee to an overtime policy. You'll need to create an overtime policy first. Learn how here.
Time Off (Pro Plan Only)
You can assign your employee to a paid time off (PTO), sick time, or unpaid time off policy. Make sure to set up your time off policy first. Learn how to set up policies here.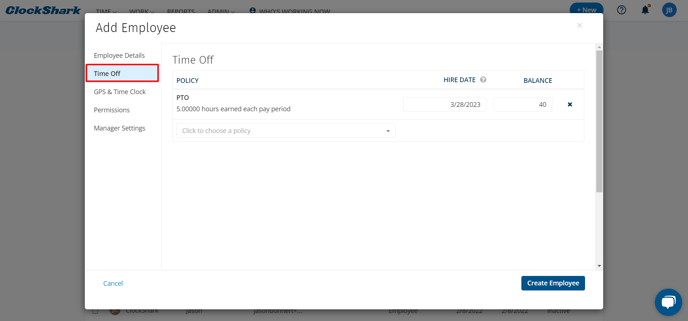 GPS & Time Off
Third is the GPS & Time Clock section. The Enable GPS Tracking and Allow clocking in from the website will be automatically checked, but you can change check or uncheck these boxes as needed.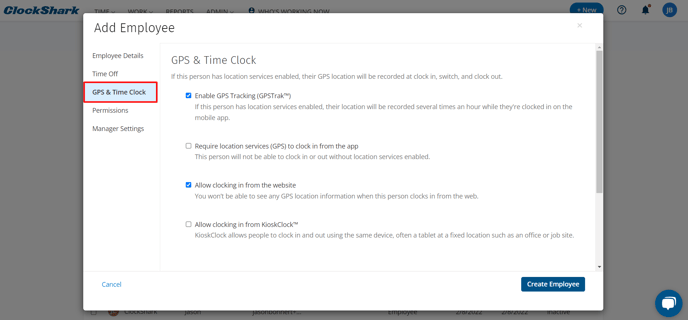 Permissions
Second to last is the Permissions tab. By default, the permissions will look like they do in the picture below. These categories are now clear and concise. For instance, you can choose if your employee can only view jobs or if they can add and edit jobs. You can also remove access to quotes and invoices for employees.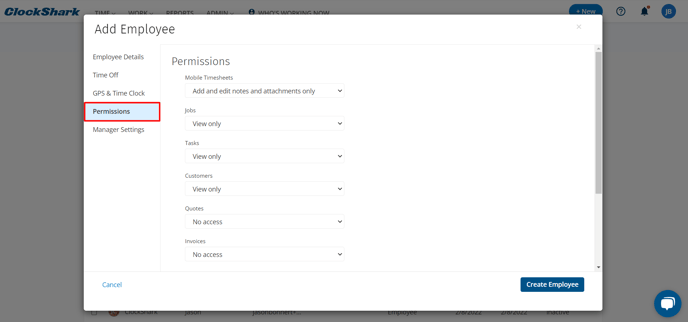 Manager Settings
Lastly are the Manager Settings. By default, your employee's manager setting will be set to "None". This is where you can grant manager access to employees. For instance, if you want Jack to view and edit Joe's timesheet and schedule, you can do that here.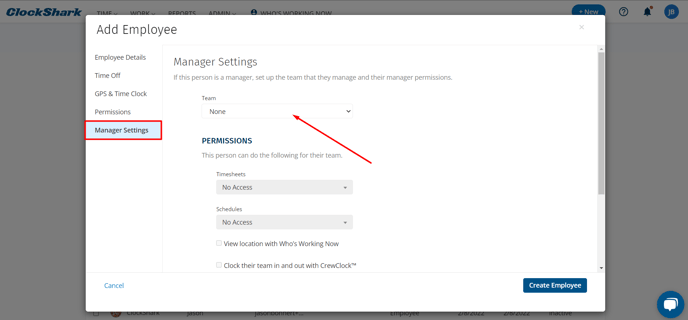 Timesheets on Mobile App
Edit and add time to their own timesheets: This permission allows an employee to edit previously created timesheets in the mobile app and create new ones for themself. With this permission, they can:
Correct clock-in and clock-out mistakes

Correct the job or task (if they chose the wrong one)

Add notes and file attachments to their timesheets

Add a manual timesheet (helpful if the employee forgets to clock in and out)
Note: It's easy to spot an edited or manual timesheet. You'll see the message, "Edited by (Employee's Name)," the date and time it was edited, and a link to the audit-log trail showing what information the employee added or changed.
For in-depth details about Work Settings and Manager Settings, please read this article
What Your Employee Does Next
If you went the email route, your employee will receive an email letting them know that they've been invited to join your ClockShark account.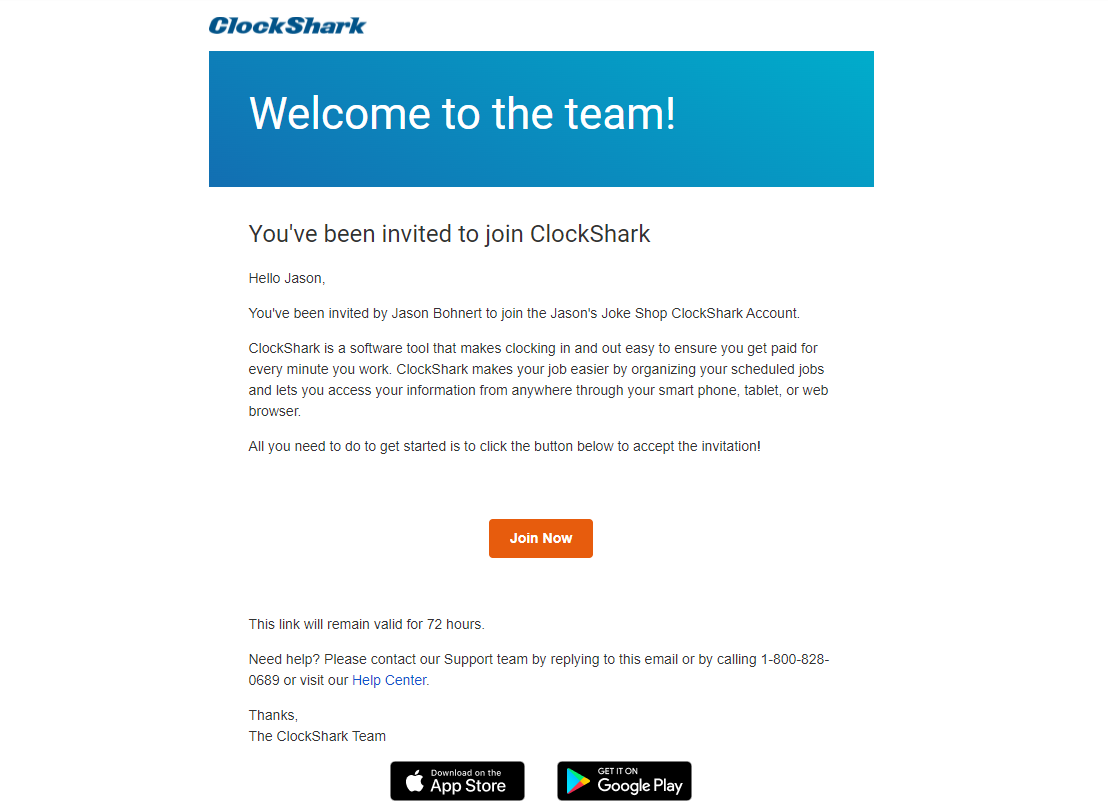 Once your employee clicks the orange "Join Now" button, they will be redirected to the ClockShark website where they will create their password and agree to ClockShark's Terms of Service, Privacy Policy, The End User License Agreement, and the Fair Use Policy.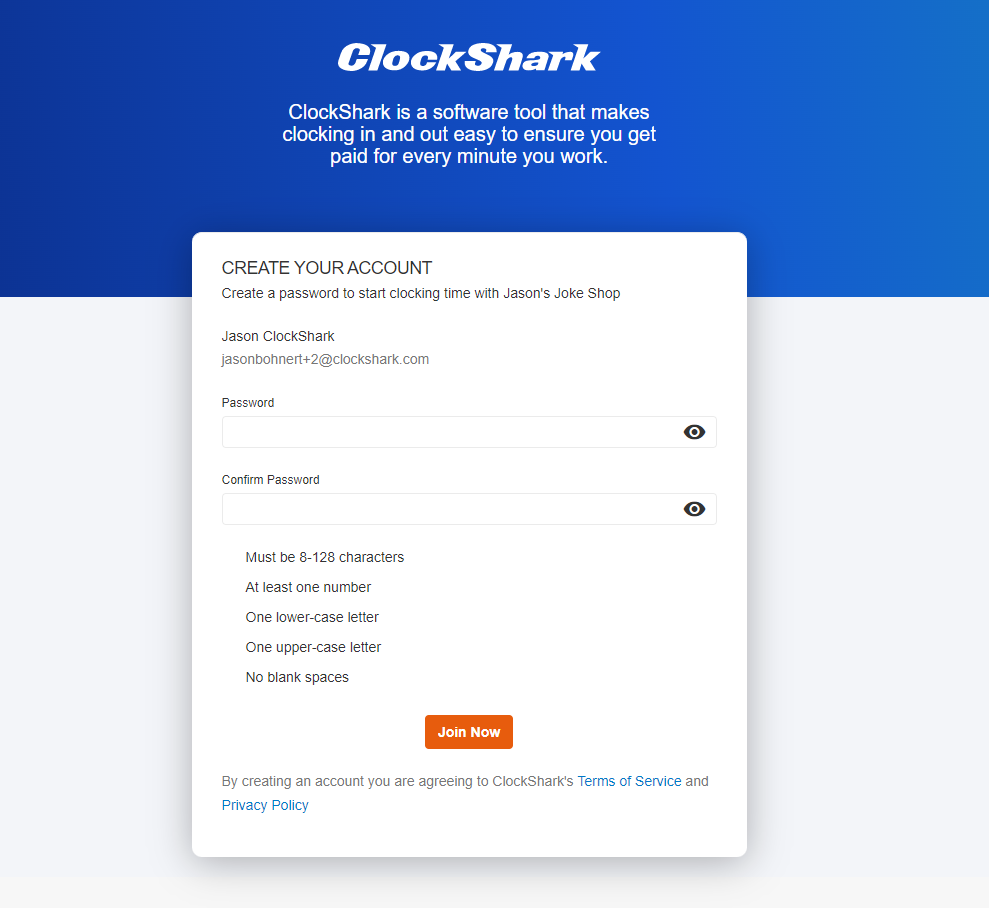 Once your employee enters their new password and presses "Join Now," they will be prompted to download the ClockShark app on their smartphone or tablet.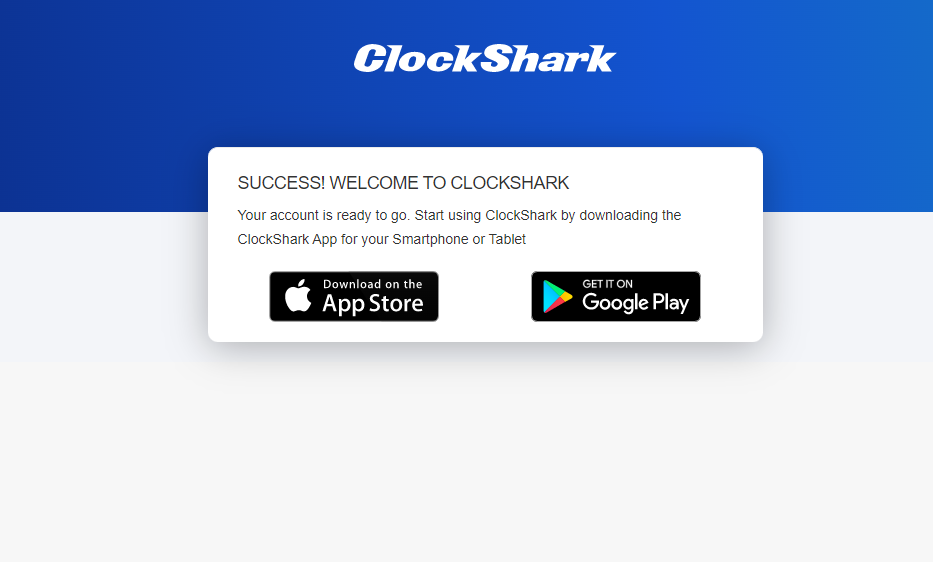 Note: The link expires after 72 hours. If you need to resend the invitation, press the 3 dots next to the Status > and click Send Invitation.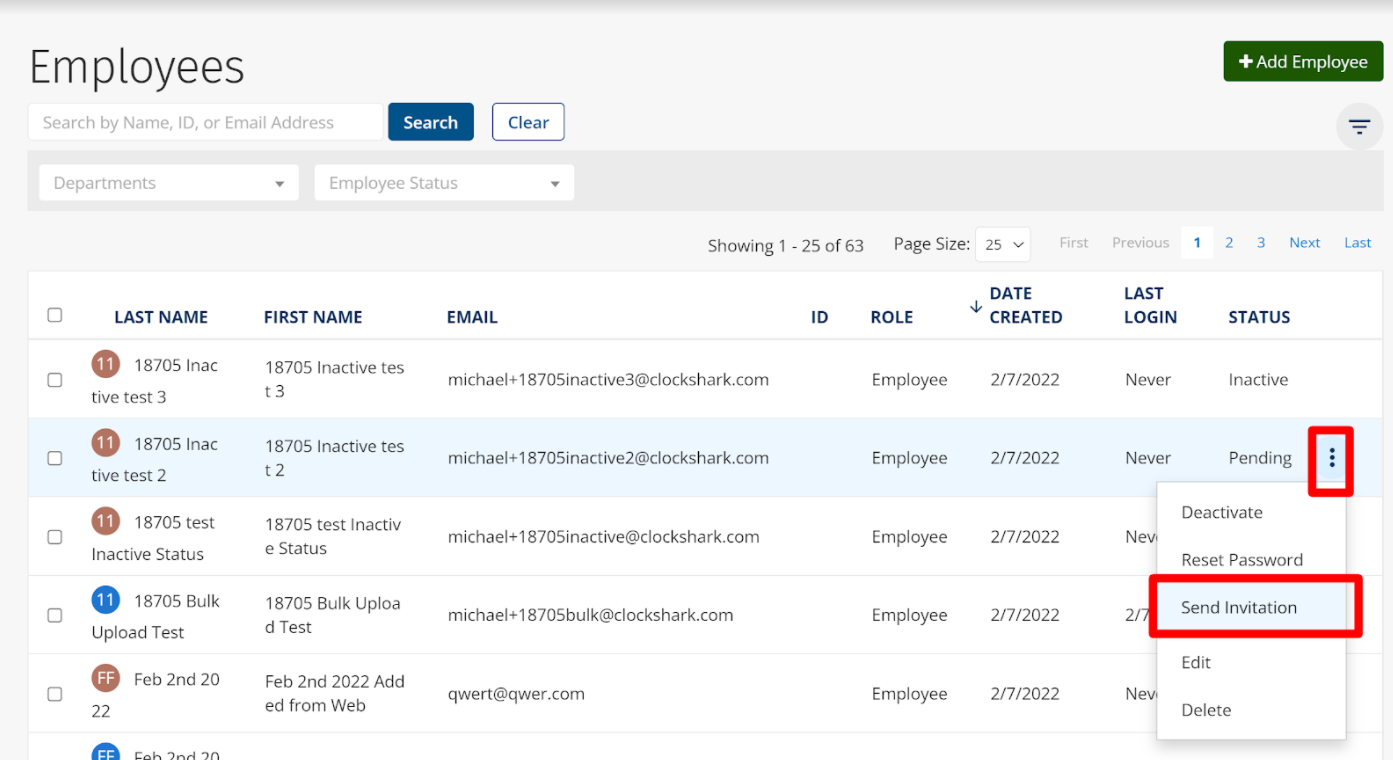 If you went the text message route, your employee will receive the following text message, and then complete the same steps above.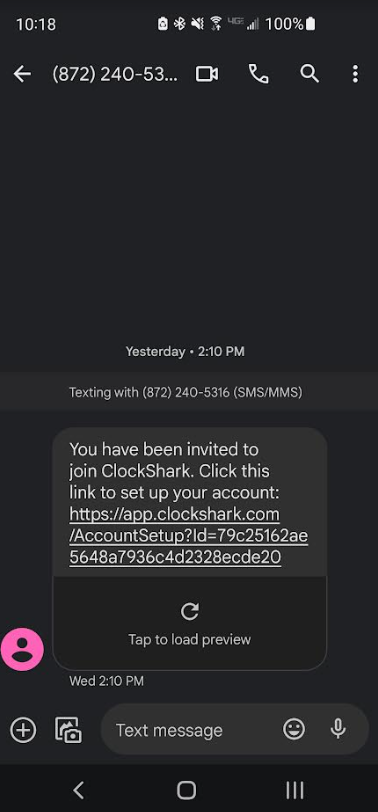 Inactive Employee Option
You can also add your employees to ClockShark as Inactive. Inactive employees will not receive the invitation email and do not count toward your active user count. Once you are ready to activate your inactive employee(s), you can go to the Employees page > click the 3 dots next to their status > and press "Activate"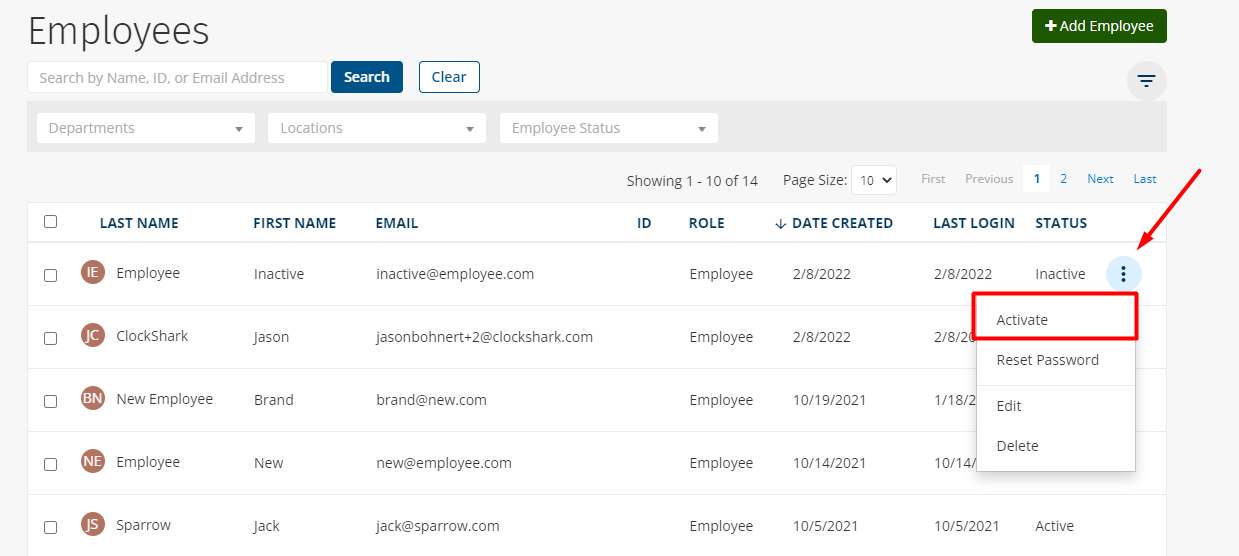 If you have any questions along the way please feel free to contact our Support team and get ready for answers!