Get paid faster by accepting and managing your payments online with ClockShark Payments
ClockShark Payments are only available for US customers on the Standard and Pro Plans. ClockShark Payments powered by Chase charges the seller a processing fee of 2.9% plus $0.30 for each transaction.
Set-Up
To get started with ClockShark Payments navigate to Admin > Settings > Quotes, Invoices, and Payments, then click on the ClockShark Payments tab.
You should see your email and company name prefilled here, you can change them as needed. Then click the "Get Started" button. You will receive an email from ClockShark Payments via Chase that will walk you through the process.

Click on the link in the email to create a password for your account. ClockShark Payments allows you to accept payments from your customers through Chase Bank's secure payment processor. This will guide you through a secure onboarding flow that requires your personal and business information for verification. You will need the following pieces of information:
General legal information about your business

Legal name, address, website, etc.

Employer Identification Number (EIN)

Social Security Number (SSN)

Routing number and Account number for the bank account you want to be connected
Note: You may need information from additional business owners and/or accountants and controllers.
If you have questions along the way you can reach out to Chase Bank's support on the right-hand side of the onboarding process. Their support team can be reached at support@wepay.com

Once you are done, you will see your ClockShark Payments dashboard. This is where you can view all your received payments, manage any refunds, and more. You can log into Chase Bank's secure payment processor manually or, better yet, visit the ClockShark Payments tab where you started the process to get a link to sign in to your account.

Accepting Payments
Once you are connected, your customers will see the Pay button when they view their invoices online. When customers are sent an invoice, they receive a link to view the invoice online, where they can make an electronic payment, or refer to the invoice after payment.

After they select the Pay button, the customer will input their card details, billing information, and the desired email for a receipt.
Once the payment is made, both the customer and yourself will receive emails alerting you of the payment. You will see the payment marked "pending" until cleared. When an Invoice is fully paid off and the money received, its status will be updated to "Paid" and you can receive notifications and emails.
ClockShark users also have the ability to preview Invoices just as the Customer would see them. When viewing the preview, you are presented with the same page that the customer interacts with. This means that you can enter in payments on behalf of your customer. This is a great way to take their payment if they call in with their card information.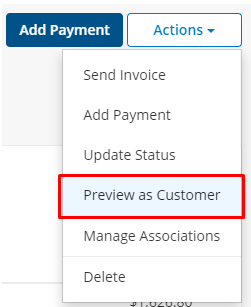 This is the advantage of ClockShark Payments. No more chasing down checks or waiting for customers to remember to pay you. Now you can bill your customers and get paid all at once!
Note: ClockShark Payments powered by Chase charges the seller a processing fee of 2.9% plus $0.30 for each transaction.
Disconnecting WePay
If you need to disconnect WePay or have any questions along the way about this process please contact our Support team and they will help you out.