Learn all about ClockShark and how to get started!
ClockShark is the leading time tracking and scheduling app for local construction and field service companies. It was created to be super quick and user-friendly!
Logging in and Clocking On
To get started, simply download the app onto your mobile device and log in with your email and password provided to you by your company. When you first open the app it is simple, just press the Clock In button! There you will be able to choose your job and your task and then you are on the clock.

Once you are on the clock you can start a break, switch to a new job or task, or clock out. Just look for these buttons in the middle of the Time Clock Page.

ClockShark may track your location (based on your company's settings) but it is important to know that we only do this while you are on the clock. If you are on break or clocked off for the day we don't track locations at all.
At the top of the Time Clock page, you'll see a map showing you the last tracked location. So if you have the GPS on for ClockShark, you will be able to see exactly what data we are using for your clock-in. If you have the GPS Tracking feature (periodic GPS locations throughout your shift) enabled for your account, this map will update throughout the day to show you your last-used location data as well.

On the map, there is an icon on the right representing a GPS path that brings you to our Timeline. The Timeline allows you to view all your clock-in, clock-out, start break, end break, and GPS Tracking locations for the day so far. This is also available when you are off the clock and is a great way to review your own location data.
If you need to leave any notes or attachments on your shift, you can find that section right underneath the job card on the Time Clock page of the app. There you can leave up to 2000 characters of notes and add photos and files. You can read more detailed instructions here.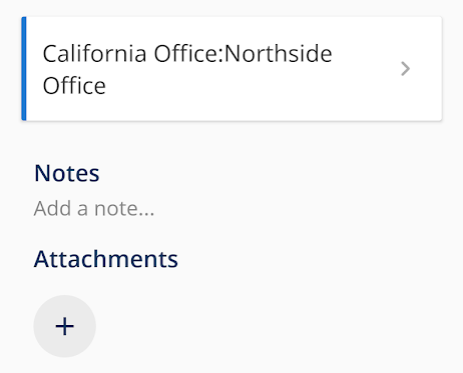 The rest of the app is really easy to navigate. The Menu will be in the upper left and from there you can view your Timesheets, Schedules, Sync page, Settings, and anything else you may have access to. You can read all about the other pages on the app in more detail here.

The Sync page is like a big refresh button where you can sync your app with any changes that have been made with your company's ClockShark account. For example, if your company adds another job for you to work on, but you can't find it, you may just need to run a sync for your app to recognize the change. Most pages in ClockShark have the ability to pull down to refresh or have a refresh button you can use as well. If you ever work in areas with bad cell service, ClockShark will still track all your time and breaks! The time will then show up in the Sync tab as a "Sync Queue" to be sent over to the website. Whenever you do reach an internet connection again, you can press the "Sync" button to send the time over and make sure you get paid!