Learn how to integrate your ClockShark account with your QuickBooks Desktop account
Using a desktop version of QuickBooks such as Pro, Contractor, or Enterprise? You are in luck! ClockShark integrates with QuickBooks to export time activities with a simple push of a button. No more double data entry!

You'll also be able to either automatically or manually sync your Customers/Jobs and Service Items in QuickBooks with your Jobs and Tasks in ClockShark.
Note: If you would like, you can book an appointment with ClockShark's Integration Team to help guide you through this setup. To do this, chat with ClockShark's Support Team and they will help you book a meeting.
System Requirements
Due to QuickBooks discontinuing services for versions from 2017 and earlier, we only support versions from 2018 and newer. However, if you calculate payroll manually/elsewhere you may be able to use 2017 versions and older with ClockShark. Contact us to learn more!
A Microsoft Windows PC running a supported version of QuickBooks:
QuickBooks Enterprise (2018 or later)
QuickBooks Premier (2018 or later)
QuickBooks Pro (2018 or later)
The following international editions of QuickBooks are also supported:
Canadian editions of QuickBooks (2018 or later)
UK editions of QuickBooks (2018 or later)

Note: If you use a Mac, you can still use QuickBooks by using a virtual edition of Windows. Reach out to our support team for more information.
Integration Setup
So how do you get started with the QuickBooks Desktop integration? It's easy.
1. In ClockShark, go to Admin > Integrations > QuickBooks.
2. Choose the option to set up QuickBooks Desktop.

3. Follow the setup steps shown on the screen to choose whether to automatically import from QuickBooks, then download and install the Web Connector.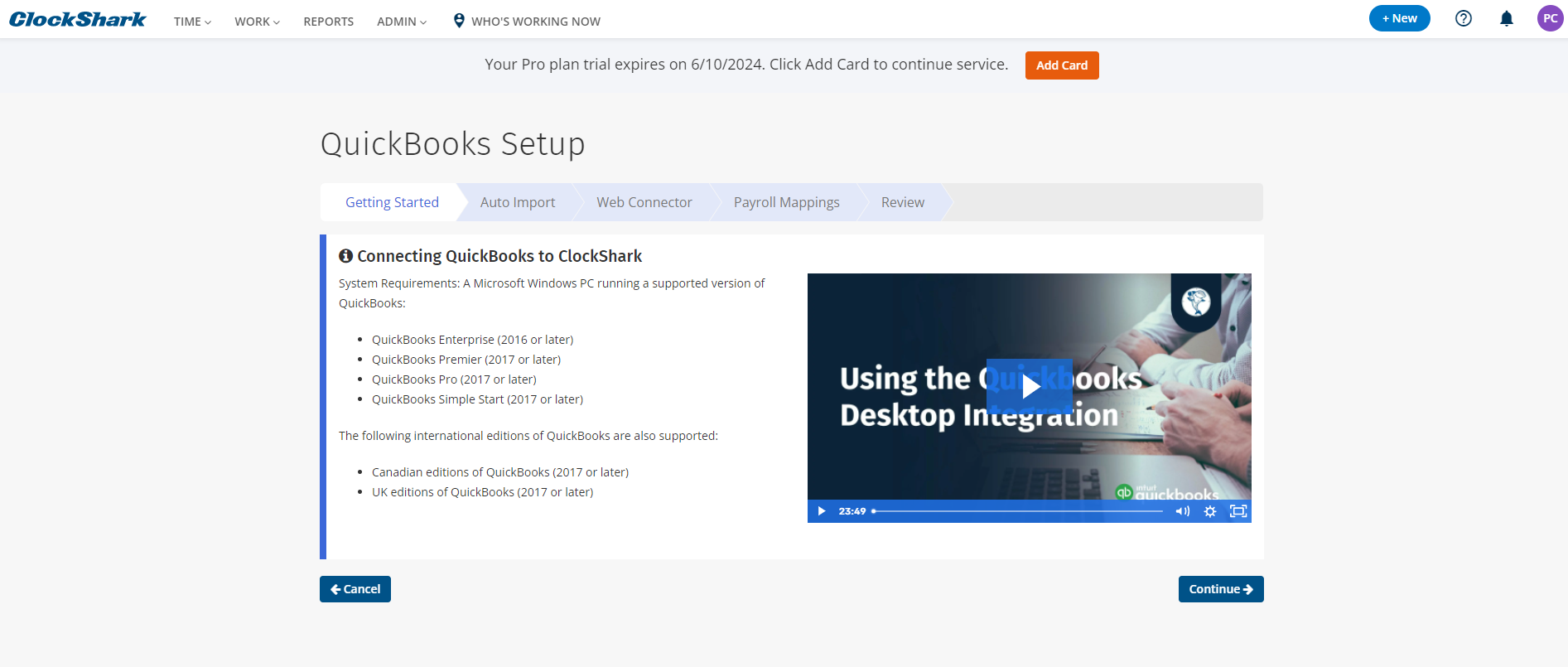 4. Once you complete the setup steps you are connected to QuickBooks Desktop. If you chose to Auto-Import, you will receive an update from the QuickBooks Web Connector every 60 minutes that will import your new Customers/Jobs from QuickBooks as Jobs in ClockShark. It will also import any new active employees in QuickBooks and create them as employees in ClockShark.
Note: For employees to be successfully imported to ClockShark, they need to have an email address in QuickBooks.

5. Now employees can start clocking in using the Jobs and Tasks in ClockShark linked to your Jobs and Service Items in QuickBooks. Awesome!

6. Once you've reviewed and edited time as needed, you can export the time activities to QuickBooks by clicking the Export to QuickBooks button on the View Time Sheets Screen.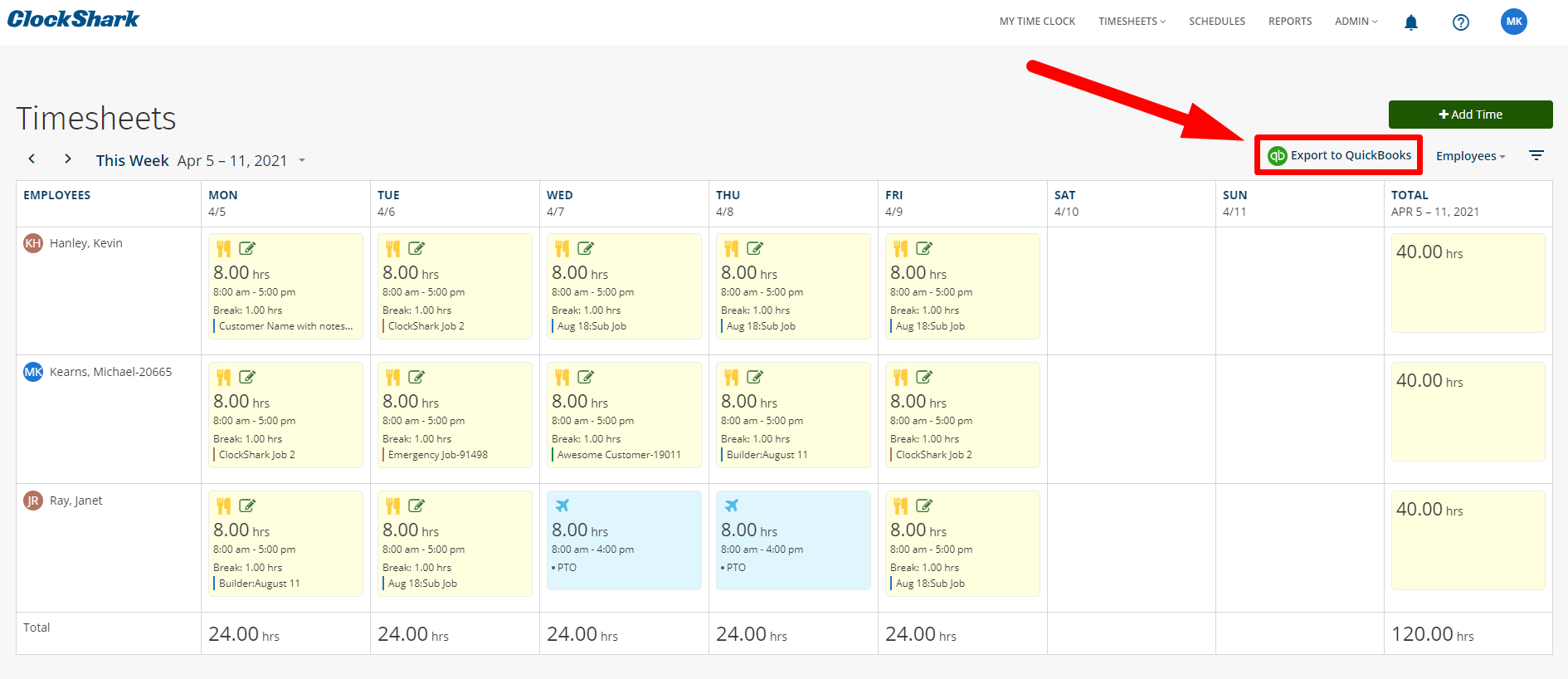 7. From time to time you may want to check or adjust mappings between your ClockShark Jobs, Tasks, and Employees and your QuickBooks Customer/Jobs, Service Items, and Employees. To do so, just visit your QuickBooks settings page under Admin > Integrations > Manage and click on Configure Mappings.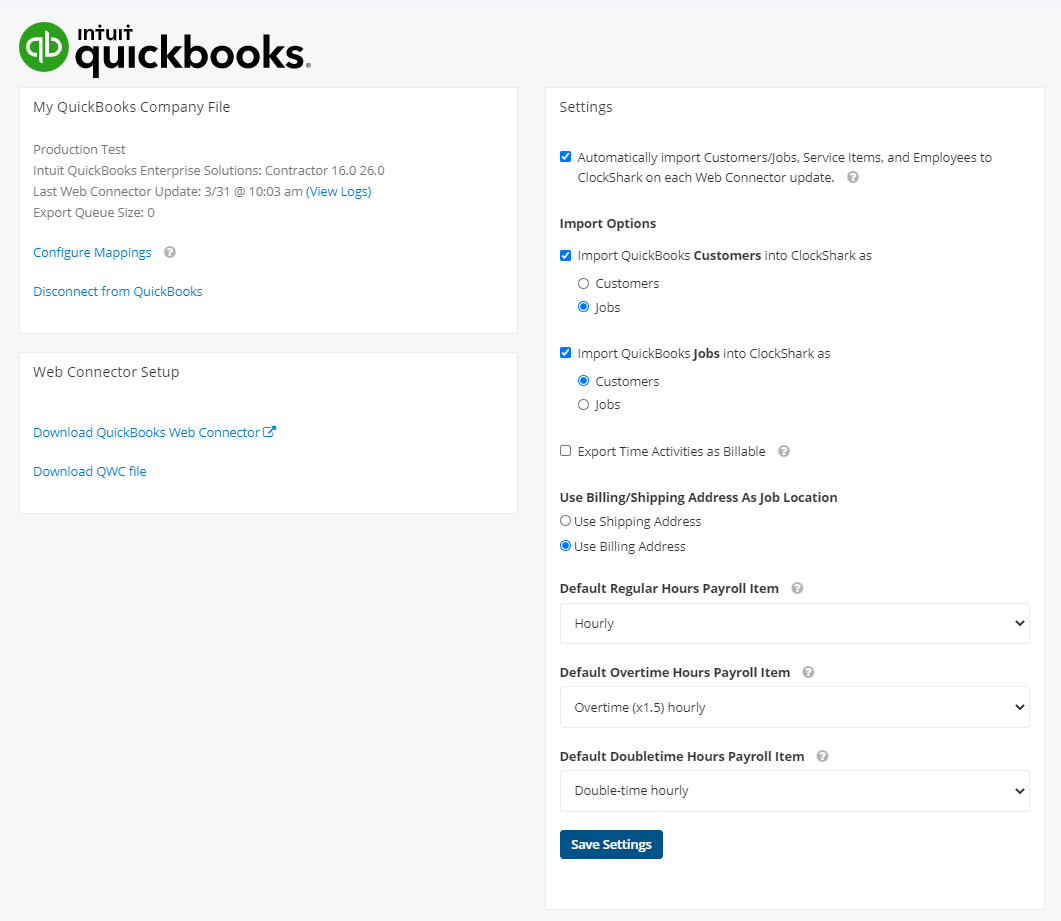 You can map specific items in ClockShark to specific items in QuickBooks easily!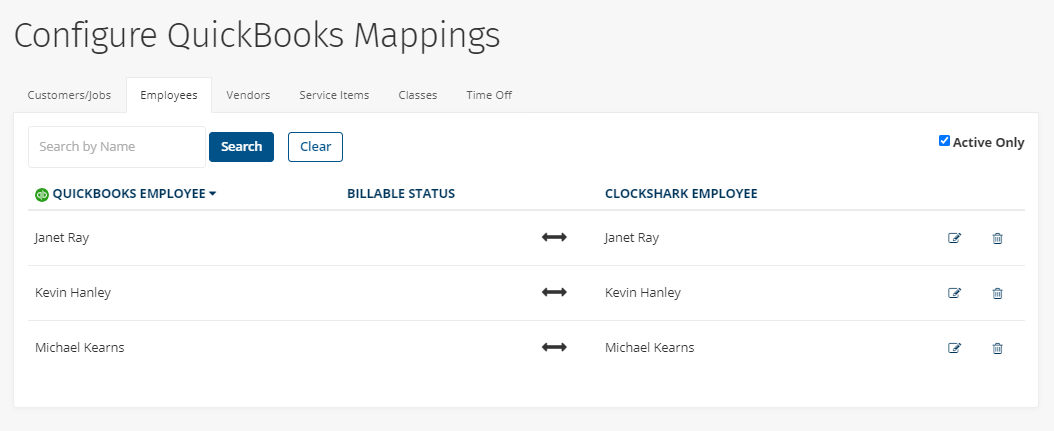 And, just like everything in ClockShark, if you need any help with QuickBooks, just reach out to us for help via email, chat, or phone. We are here to help!