Get more done and stay organized by tracking your Jobs from start to finish with Job Monagement
Job management allows you to keep on top of your jobs by tracking them from creation to completion. Jobs act as a hub where you upload documents, files, photos, and more. You can also use Job Stages to help your team keep track of where a job is in your process. Finally, using our Conversations feature allows your team to keep in contact with each other via the website and the mobile app by commenting about the materials needed for a job, sharing updates about a job, uploading progress pictures, and more. Let's visit this flow in more detail.
Creating Jobs
Creating jobs on ClockShark is easy and will allow you to start the job management process. You can create a job from the jobs list page, directly from a Quote, from a Customer page, or by using the +New button from any page on the website. Users with the appropriate permissions can also create jobs on the mobile app.
Job Details
Once a job is created you can do what you do best and get to work. The job details page acts as a common hub for your team to communicate and see information about that job. You can see important information like the Customer for the job, job stage, job address, job description, comments, job contacts, and photos and documents. This is incredibly valuable as it makes the job the central location for all your team members to find or document information. Creating a space for clear communication and centralized information that's available on both the website and the mobile app so you can stay informed no matter where you are. For a deeper dive into jobs, check out this help article.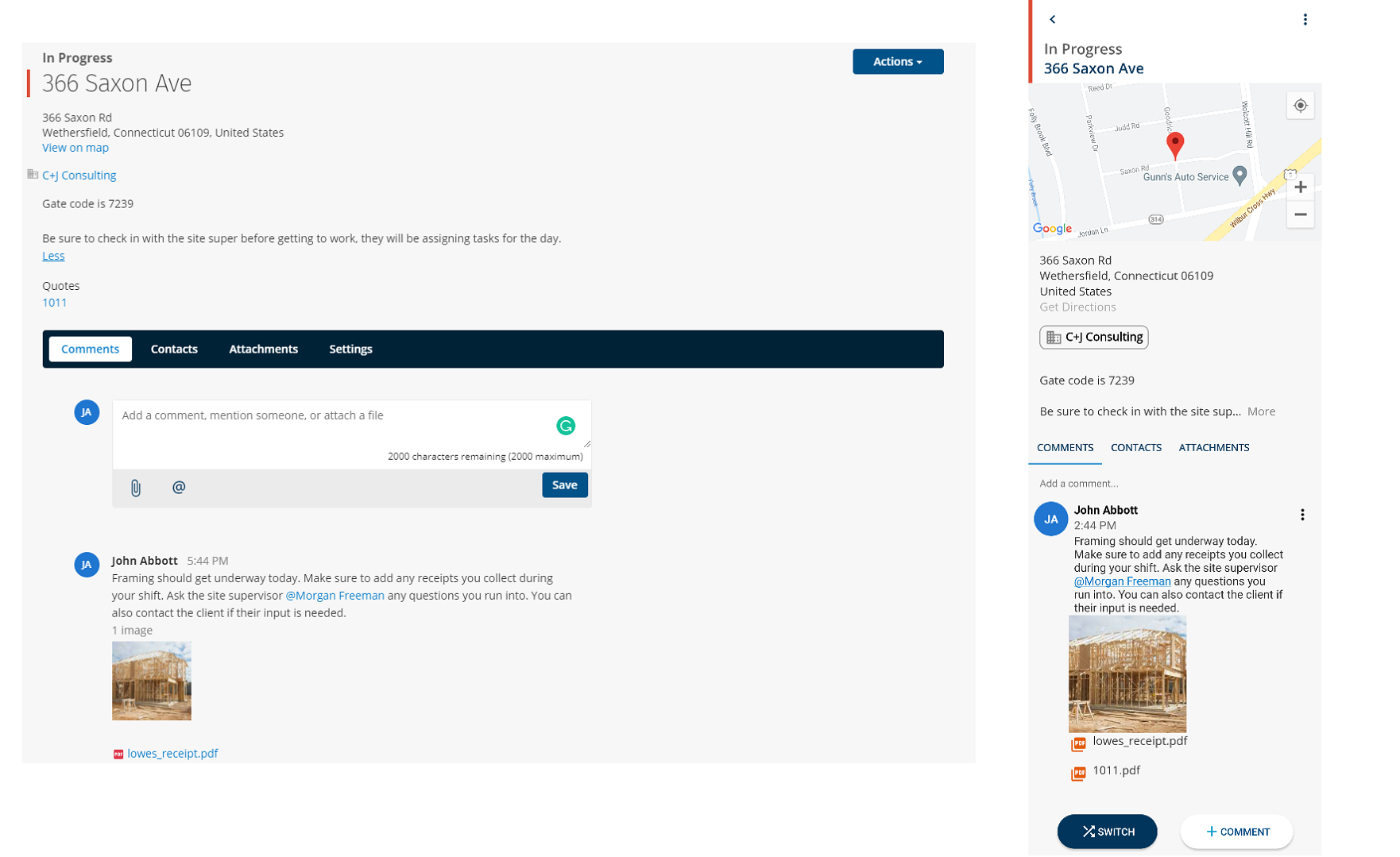 Job Stages
Once work on a Job is underway you can use Job Stages to help you track where each Job currently stands. These stages can be customized to fit your business. They are viewable on the website and mobile app to keep your entire team informed. They can help you filter your Jobs page, Timesheets, and Schedules. To learn more about Job Stages check out this help article.
Conversations
With Conversations, you can easily communicate across teams on both the website and the mobile app. Comment on a job and anyone with access to that job will be able to view your comment. This is great for discussing materials needed, progress made on the job, roadblocks you are running into, and more. You can mention users in order for them to receive a notification, that alerts them to view the comment. Follow a job on the mobile app or website to get notified whenever there is a new comment on that job. Check out this help article for more information on Conversations.
Job management helps your entire team create jobs and work together to get the job done and get paid on time. After the job is complete you can create an Invoice for your Customer right from the job page and even bill them based on time worked in ClockShark.
If you have any questions along the way please feel free to contact our Support team and get ready for answers!