Learn how to easily export timesheets from ClockShark to Xero
Exporting time to Xero is fast and easy! Before you transfer time to Xero, you will need to integrate your account with ClockShark. To export time to Xero:
Navigate to the Time > Timesheets > View screen. There you will see a light blue "Export to Xero" button. Before clicking this button, be sure to review the timesheets for accuracy so that only verified, correct time activities get exported to Xero.

2. After clicking the "Export to Xero" button, the next screen will ask you to confirm the export.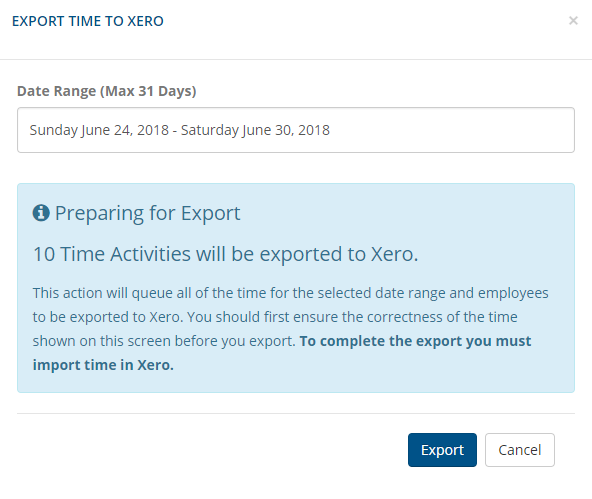 Please note that on this screen, you can:
a. Change the dates of the timesheets being exported.
b. View the total number of time records preparing to be exported.
c. Correct any un-mapped employees whose time is being exported (shown below).

To fix any un-mapped employees, check out this article on mapping Xero employees with ClockShark employees.
3. After you click the blue "Export" button, you will receive a confirmation for the number of time records that have been successfully exported to Xero!
And voila! Your employees' timesheets are ready to be reviewed and approved in Xero. You can find those by navigating to Payroll > TimeSheets in Xero.

If you encounter any difficulty or questions while exporting time to Xero, please let our friendly customer success team know.