Quickly get your team up and running by adding jobs and tasks to your ClockShark account on the Web Dashboard
You can add an unlimited number of jobs and tasks. When time is added (manually or by clocking in and out from the mobile app or web), the employee will need to choose a job and task to associate the time with. After clocking in, the employee will also be able to easily switch jobs and/or tasks throughout their day as needed.
Adding Jobs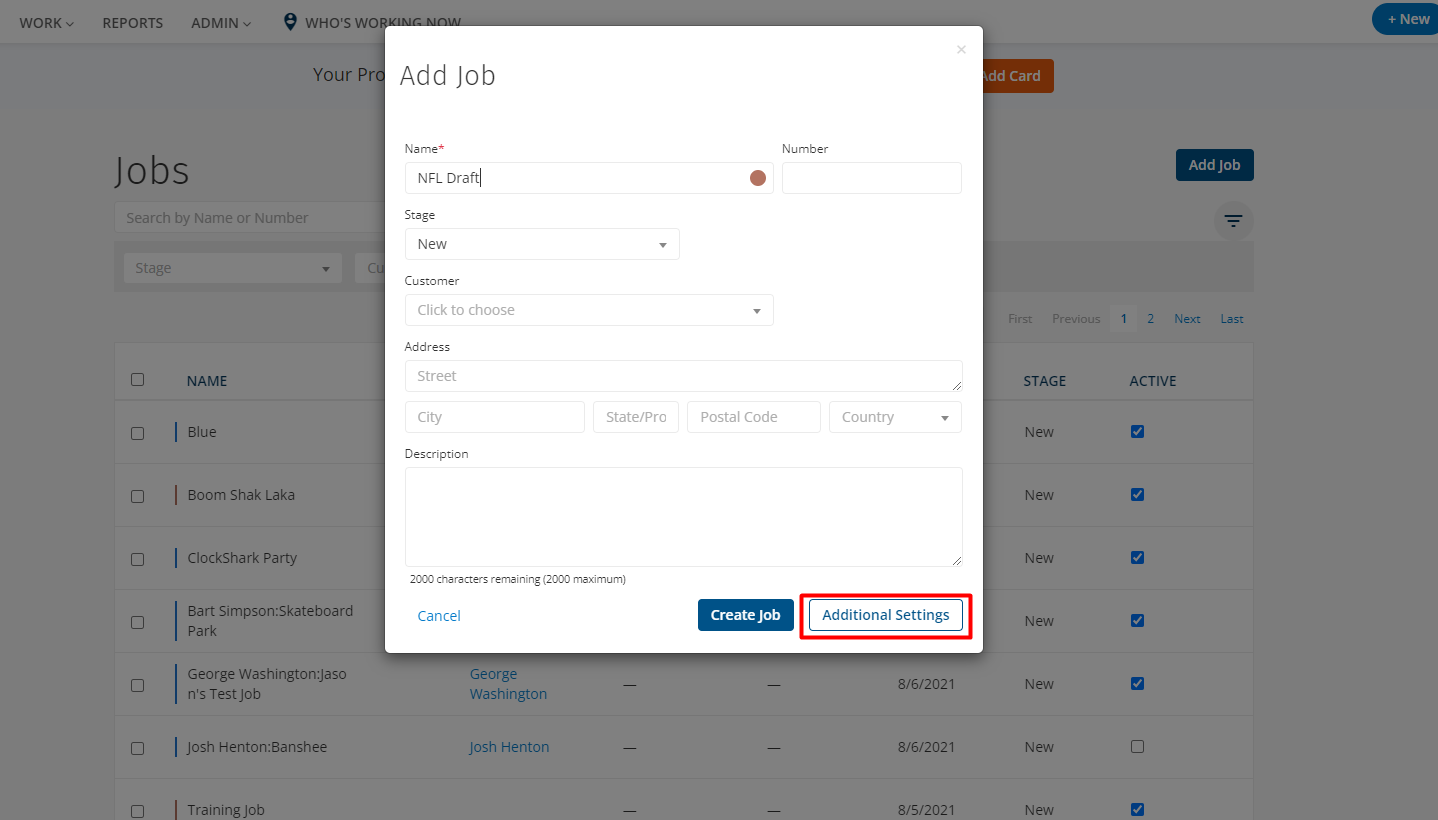 Add Job Pop-Up
To add jobs, go to Work > Jobs. Then click on the "Add Job" button in the upper right corner.
When you hit the "Add Job" button, there is a pop-up that allows you to input information and save it all while you are still on the Jobs list page. From here, you can enter in the Job Name, Job Color (the color that the job appears on the schedule, timesheets screens, and on the mobile app), Job Number, Job Stage, Customer, Address, and Description all without having to leave this page.
The Job Stage allows you to keep your jobs organized and help track the life cycle that your jobs go through. Check out this article to get them set up!

Likewise, the Customer allows you to group contact information, attachments, and Jobs in order to keep them organized and easier to use! You can find out more about Customers in this article.

The Description is a great way for you to give certain instructions about a job to all employees that use that job. You can add notes about the job site like which floor it's on, phone numbers, emails, who to contact, etc. When the employees go to clock in on the app, they will see all the relevant information for that job!
Click the "Create Job" button to stay on the Jobs List page after creating the Job. If you need to configure other settings then click on the "Additional Settings" button on the pop-up so that you can navigate to these settings while you are creating the Job.
Settings
On the additional settings tab, you can set up the Geofence, Access control (for Pro Plan members only), Task control (for Pro Plan members only), Labor budget, and the applied Clock Out Questionnaire (for Pro Plan members only).
The Geofence allows you to set a virtual fence around a job site to give your employees reminders to clock in/out as well as receive location updates. You can use the address or click on the map anywhere in order to place the Geofence! You can learn more about that in detail here!

You can use the Access control to limit the employees who can actually view and clock into this job on their app. Similarly, the task control will only allow certain tasks to be used when clocking into this app. So for example, you can limit Peter Parker to be the only worker that has access to the job "California Office" and he can only use the task "Web Support."

You can also choose whether or not to track the labor hours budget for the job. Labor hours budgets are useful for firm-fixed-price contracts to gauge how many total hours of labor have been used on a job, how many hours of budgeted labor are left.

Clock Out Questions allow you to require employees to answer a set of custom questions that you set up. You can learn more from this article.
You can navigate to these settings at any time by clicking on the Job and going to the Settings tab, or by using the "Settings" option on the three-dot menu.
Attachments
Another powerful feature to help direct and inform your employees is to add attachments to a job. This is a great way to share job information like plans, work orders, and photos with the crew in the field. File attachments can be added to Jobs from the web dashboard on the "Attachments" tab. Simply drag and drop files from your computer or use the "Action" button above to upload files. Employees will see these attachments and photos on the mobile app right alongside the job description, location, and more!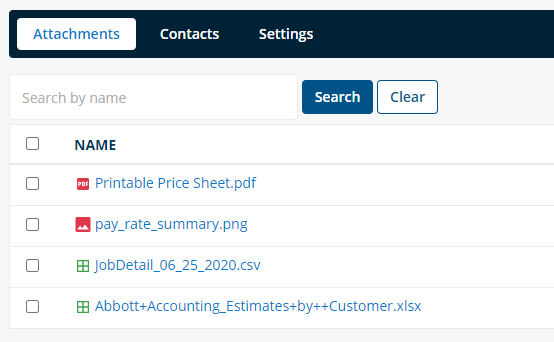 Adding Tasks
To add a task, go to Work > Tasks. Then click on the +Add Task button in the upper right corner
Tasks can have the following attributes: Task Name, Task Code, Access Control (for Pro and Expert Plan members only), Overtime Exempt, and Out of Bounds Exempt.

The name and task code are straightforward so we'll skip those and start with access control! Access control lets you do the same thing as listed above for jobs. This lets you limit which employees can actually see and clock into this task.
With the overtime-exempt option, any time tracked with this task will not create overtime or doubletime. And similarly, with the out of bounds exempt option, any time tracked to this task will not trigger an out of bounds notification. This is great for tasks like travel, sales calls, working from home, etc.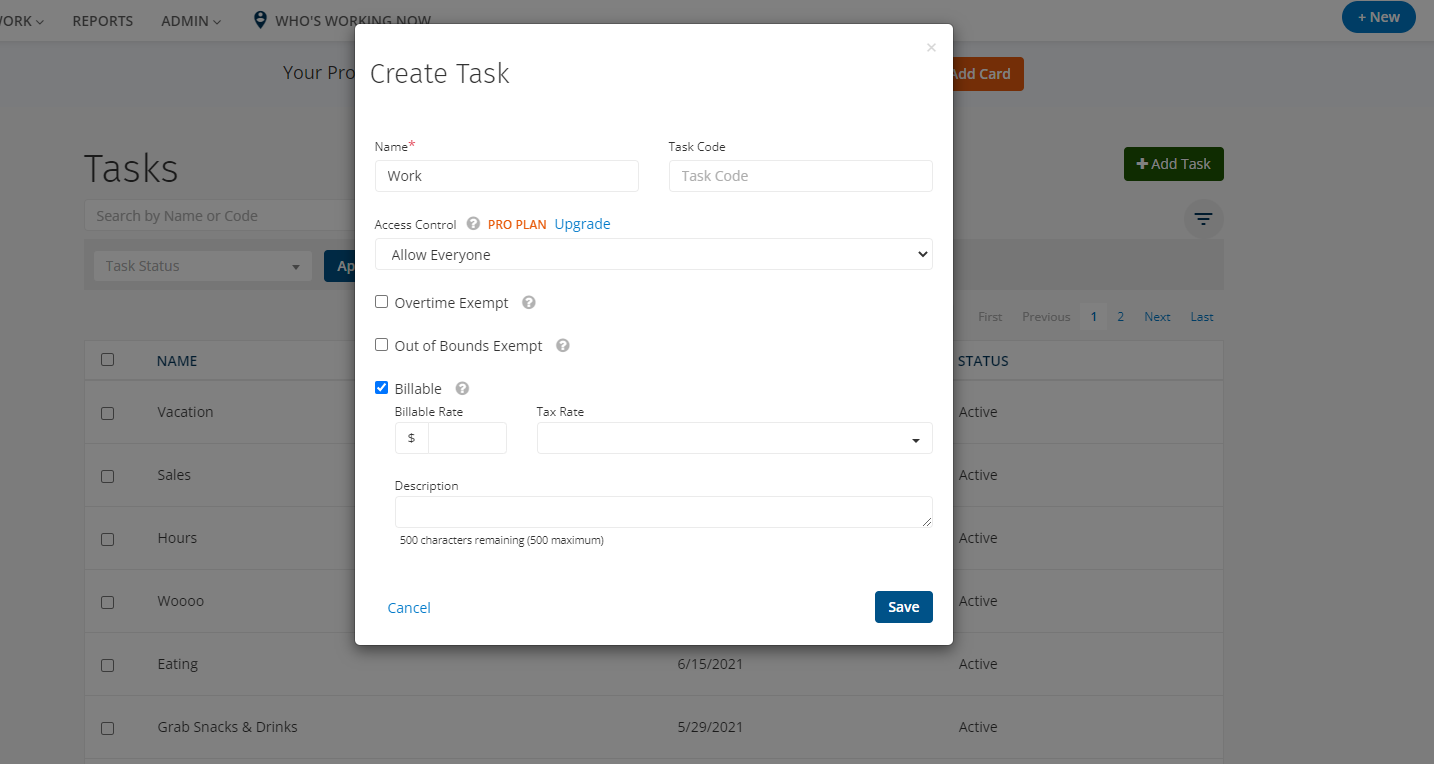 If you have any questions along the way please feel free to contact our Support team and get ready for answers!